Each season, I go through a major transition in my home – a major cleanse of the entire house and property, which typically involves throwing out a lot of stuff and storing a lot of things we won't use for another year, pulling out seasonal gear and decor, buying new candles, and planning for simmer pot recipes!
Part of being a spiritual witch, i.e., a woman in constant conversation with the Universe and working with natural laws, is cyclical living, which calls for intense rituals at the turn of every season.
Depending on where you live, you may not want simmer pot recipes for summer because it's just too freaking hot to burn anything on the stove for hours.
But every other season pretty much around the globe calls for simmer pot recipes to be brewed by nature witches at least once a week.
But wait. What is a simmer pot, anyway?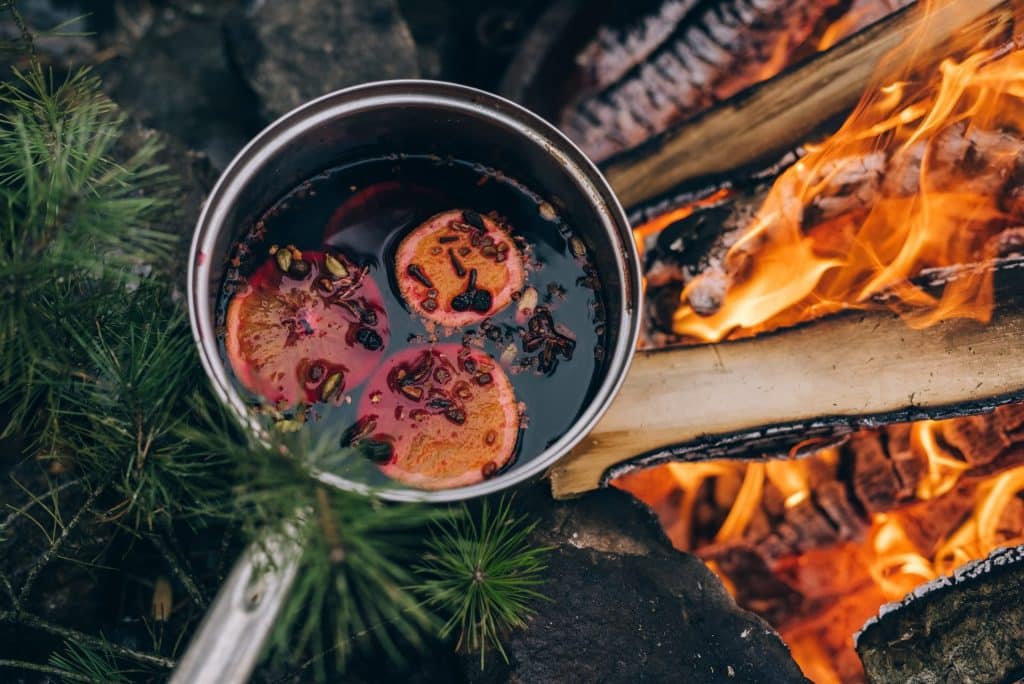 Simmer Pot
A simmer pot is basically homemade potpourri.
Remember a few decades when you could not walk into any craft store without being inundated with the smells of the season? And usually that was because the store had a large selection of potpourri.
For spring they would have various fresh florals like jasmine and lavender.
For summer you would find citrus mixed with mints and other strong-smelling, sweet herbs.
For fall of course there would be cloves and cinnamon, apples and pumpkins.
And for winter you would get evergreens, pinecones, and holly branches.
Well, the problem with a lot of those potpourri selections is that they were largely artificial and often sprayed liberally with artificial, and even toxic, chemicals.
So, those of us interested in getting back to basics and in reclaiming our roots and traditions from our ancestors, have returned to the traditional way of doing a lot of things, including filling our homes up with the natural fragrances of the seasons.
Traditionally, simmer pots were highly functional; homes were filled with the fragrances of concoctions being prepared either for storage – think jams and jellies, ciders and ales – or for remedies – think herbal teas or thick and steamy soups.
We used what we had on hand, which was typically whatever the earth would deliver to us seasonally.
So you can either make a simmer pot for remedy purposes, for health purposes, or for preservation purposes if your goal is to be in keeping with our ancestors. The goal has always been to waste not and want not.
Or, you can simply just simmer the desired ingredients on the stove and toss them when you are done.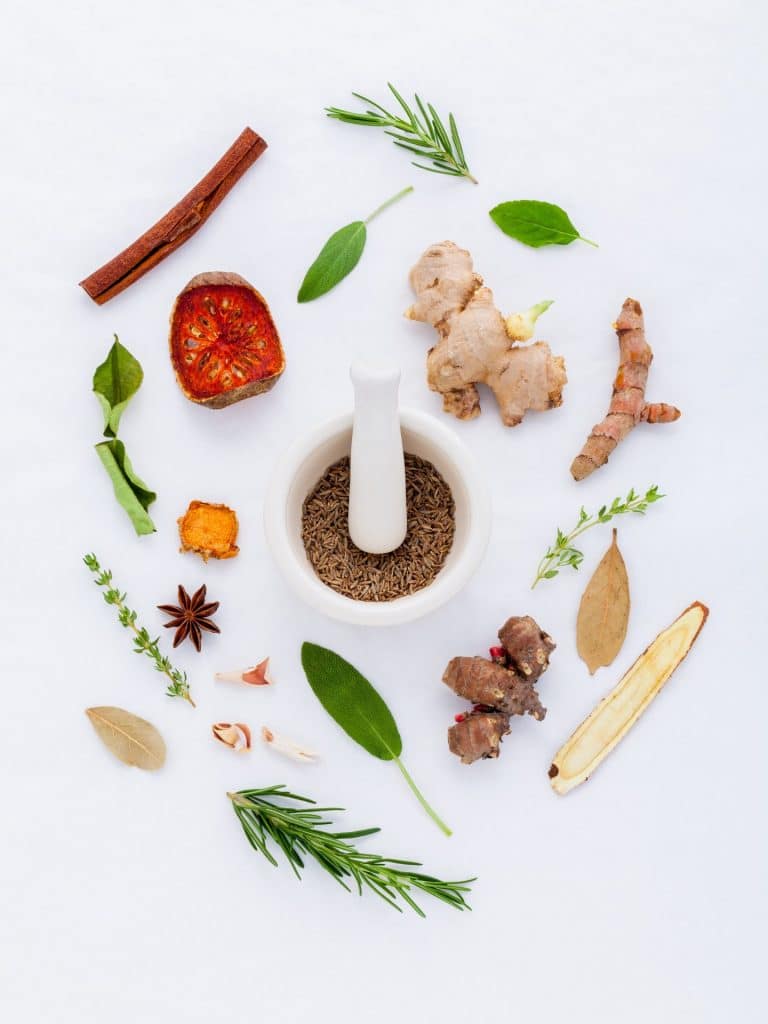 You can also incorporate spellwork with your simmer pot recipes to enhance the energy of your creation and make it even more deeply ritualistic.
It's a good idea leading up to the coming season to head out and gather your ingredients in advance and then store them properly so you can use them all season long.
I love to hit farmer's markets, grower's markets, natural food and herb stores, and cooperatives to ensure I buy plants that are locally and sustainable sourced.
That way, I know the energy involved in the entire process is a contributory and collective one.
Simmer Pot Recipes for Each Season
As I type these words, fall is almost upon us. I am one who loves to stick to tradition and move with the rhythms of nature, so you will not see pumpkins in my yard until late September.
I will be in my bathing suit until summer is officially over on the solstice!
But, I will begin gathering my items to prepare for fall in the weeks leading up to that day, one of my favorite days of the year, September 22.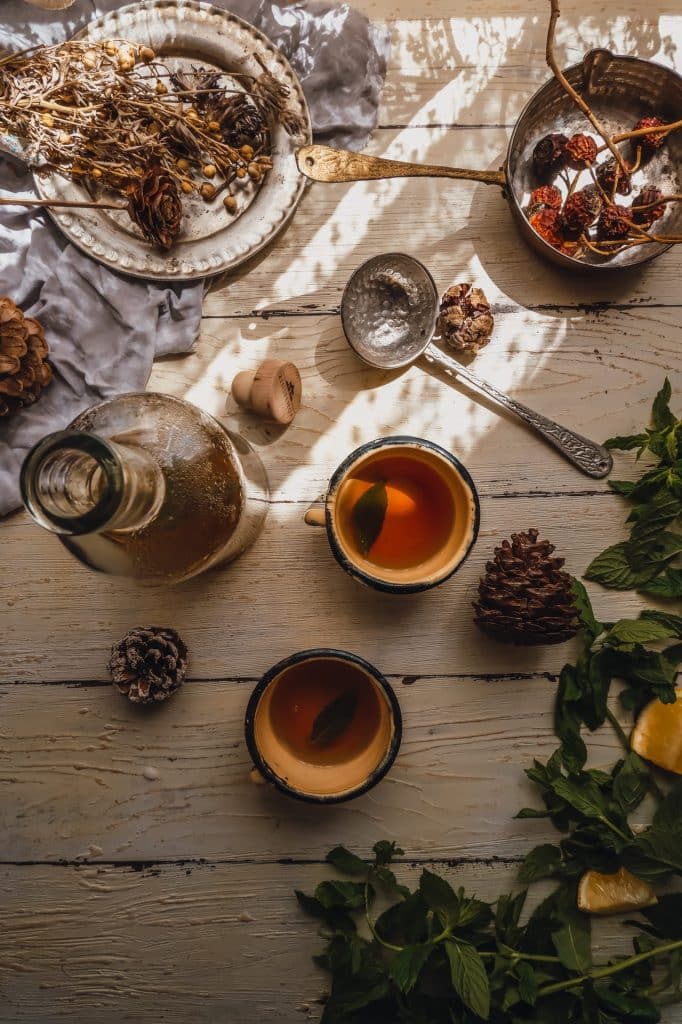 Fall Simmer Pot Recipes
Fall ingredients for simmer pot recipes feel pretty obvious to me, perhaps the most obvious of all seasons.
After all, the entire United States starts selling pumpkin spice everything as soon as the month of August ends. (It's a bit much for me, sorry.)
But yes, the spices that make up pumpkin spice are heavenly to take in on a crisp fall day.
Cinnamon, cloves, ginger, and nutmeg, the classic spices in pumpkin spice or pumpkin pie, are incredibly healthy for your body.
They are filled with antimicrobial agents and antioxidants as well as circulatory agents that get your blood flowing in efficient ways.
As expected, you should be buying the actual spices – cinnamon sticks, cloves and nutmeg, and fresh ginger.
My favorite simmer pot recipe includes all of the above and more.
Chai
1 cinnamon stick
2 inches raw ginger
1 Tbsp. Nutmeg
5 whole cloves
1-inch fresh turmeric
Bring a full pot of water to boil on your stove, and then turn the heat down to medium low.
Add your ingredients and allow to simmer for hours.
Your house will smell like fall in no time.
If you start this simmer pot early in the morning, by lunchtime you can add honey and black pepper and serve yourself a large mug after you eat your lunch.
Now, not only does your home smell amazing, but you have treated yourself to a powerful cup of chai that has tremendous health benefits, including those listed above as well as anti-inflammatory properties.
Another fall favorite is an apple cider, which is also functional and can even be made into a slightly alcoholic beverage for a weekend party with friends.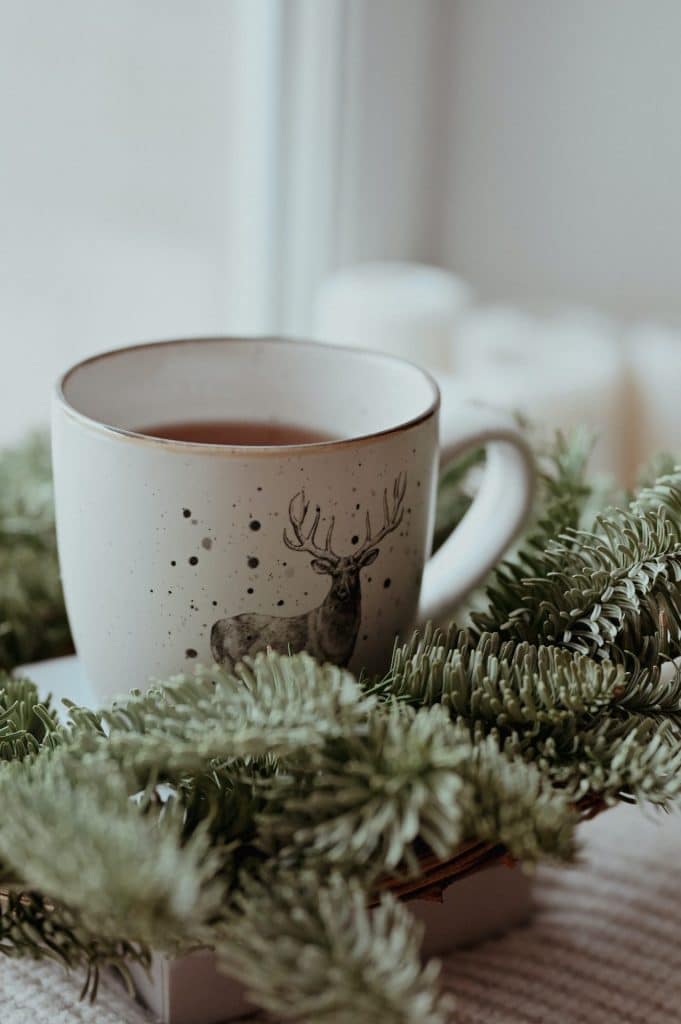 Cider
2 Apples, sliced
3 wholes cloves
3 cinnamon sticks
½ tsp. Lemon juice
Again, just add your ingredients to a large pot of filtered water and simmer on low uncovered.
You can leave this pot simmering for hours and then serve apple cider after dinner around a fire.
To make it alcoholic, add 1 cup of brown sugar and stir to dissolve, then pour the cider into sanitized jars via a sanitized funnel, cover with cheesecloth to keep out sediment, and set the jars in a cool dry place for a week. Be sure to stir it vigorously once a day to get your natural yeast activated and oxygenated.
Once it gets really active bubbling and frothing, you can cover with airtight lids and allow to sit for another week or so.
You'll know it's done when the bubbling subsides. You may see the wild yeast that fermented your cider collected on the top. You can skim it off.
Winter Simmer Pot Recipe
Winter is cold season, so my favorite simmer pot recipe is a lung support anti-inflammatory tea that benefits you from the mist in the house as well as from drinking it.
As a bonus, it makes your house smell like Christmas.
Pine and Mullein Tea
Handful of sprigs of pine tree
½ cup dried mullein leaves
One whole lemon, sliced
1 Tbsp dried elderberries
Bring all ingredients to a boil in a large pot and then simmer for hours.
Your house will smell amazingly wintery, and you can add honey to the pot and drink the tea for respiratory support, pain relief, and immune system support.
Spring Simmer Pot Recipe
Spring is the season of new life and rebirth.
Think fresh florals and herbs.
Lavender Mint Tea
2 Tbsp lavender
2 Tbsp Mint
2 inches fresh ginger
Bring all ingredients to a boil and then simmer on low for as long as you like.
Your house will smell like the fresh scents of spring. Be sure to open all of your windows and let the fresh air mix with your simmer pot fragrances.
To drink your tea, add honey and maybe even lemon. On a cool day serve in a mug, and on a warmer day, over ice.
Summer Simmer Pot Recipes
It's hot outside!
So you may want to simmer this concoction early in the day and then turn it off if you notice your house warming up too much.
If you have your windows closed and your AC on, then by all means, simmer away!
Grapefruit Rosemary Tea
2 Grapefruits, sliced
2 Tbsp rosemary
2 Tbsp jasmine flower buds, dried
Add all ingredients to a large pot of water and bring to a boil, then lower to simmer and let sit for as long as you feel comfortable.
To serve as a tea, add honey and serve over ice.
These recipes are all functional simmer pot recipes, so they were designed to be drunk as well as smelled, so your energy around preparation and use is open, healing, and loving.
Try working with your simmer pot recipes on a Sunday morning, simmer all day, and then store your tea on your stovetop or in the fridge to drink for the next several days.
The tea will last longer in the fridge as after a few days on the stove it will attract wild yeast and start to ferment, creating off flavors.
You can of course always bring it to a boil again to kill off any unwanted contaminants, but any off flavors will still be present.
Happy manifesting!