June is a transformative month for all zodiac signs for a number of reasons.
In June, we leave behind the spring season and transition into summer. Transitions are huge windows of opportunity to leave behind what is not working and start introducing new practices and rituals.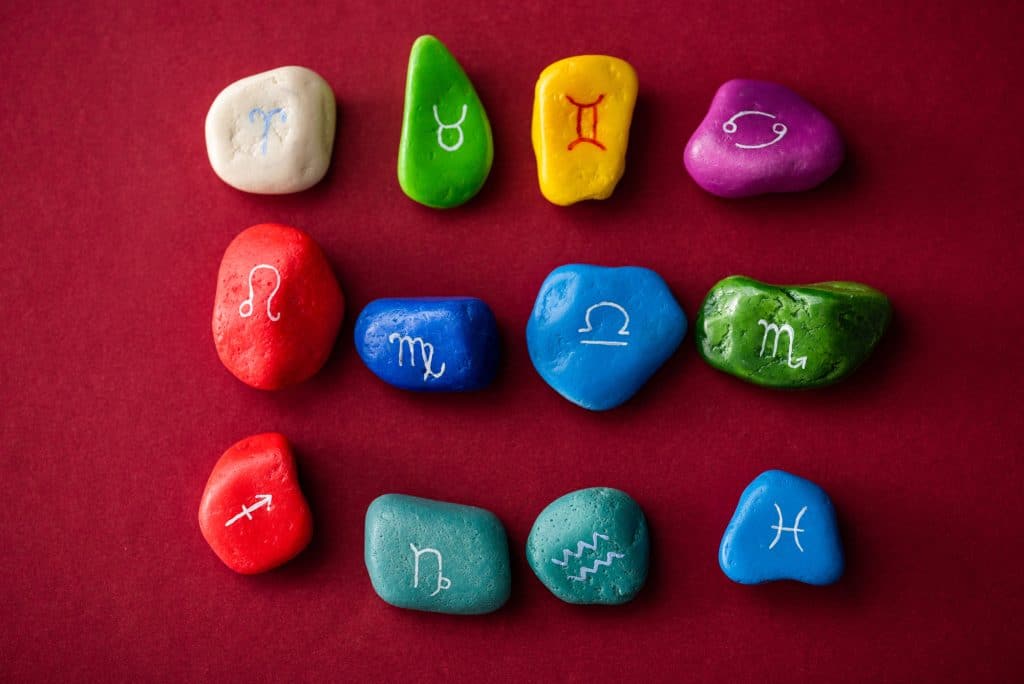 June is also the month of the Gemini, which is Latin for twins. Those born under the Gemini sign are at their greatest crossroads this month, and even those born under one of the other 11 signs will face opportunities to look at their warring and symbiotic dualities.
Remember, astrology is not an exact science. It is an intuitive art, much like working with any other area of the occult – tarot, crystals, runes, etc. You have to take it all in a big picture kind of way, trusting that some of the messaging works for you, and some is not related.
Play with this horoscope as you would with anything else, bringing in your own intuition and any other factors you may be working with, such as your sun and moon signs, numerology, etc. Let yourself go lightly with the zodiac, open up to your message, and respond from a place of love.
Keep in mind that the universe does not send signs of foreboding, omens, or negativity.
Negativity is purely human concept.
The universe only operates from a place of yes.
This horoscope is broad and general and designed to give you some insight into how your life may look for the month of June in 2022.
June 2022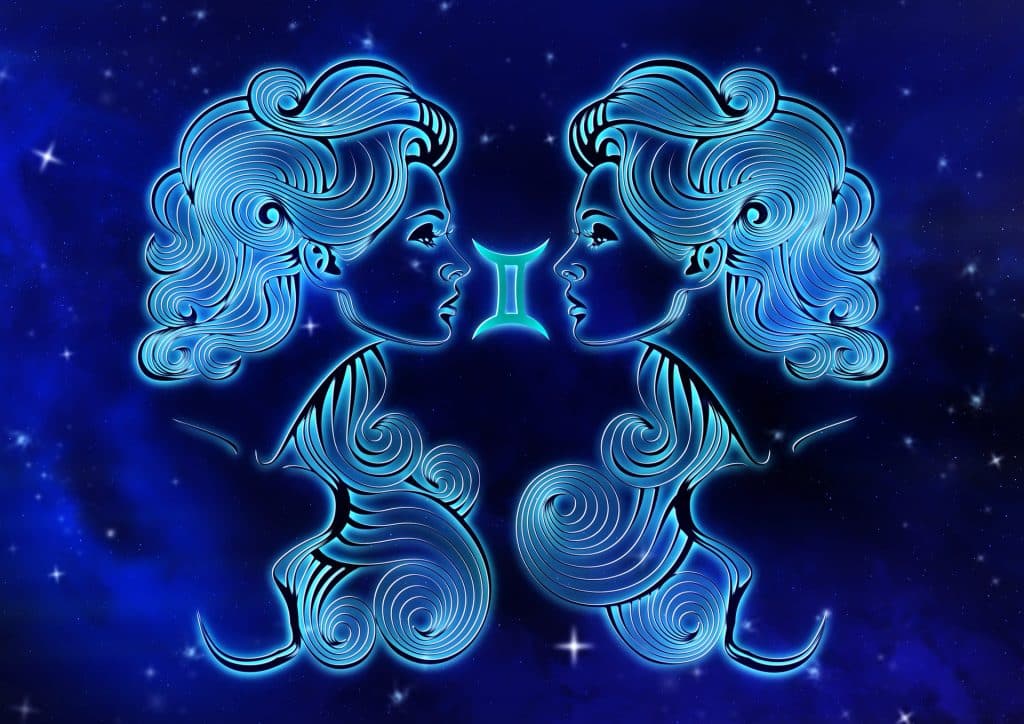 In the northern hemisphere, June is the month of the Gemini and the month of the summer solstice, so expect big transitions, big "come to Jesus" moments, opportunities for reflection and release. This month is a good time to do some shadow work, confront your inner darkness, do ego work, and end the month in a lighter, airier space, ready to bask in the summer sun.
Realize that we begin June just out of the new moon from May 30, so we begin in a period of darkness. Keep your May new moon energy going through the first of the month as we are also still in Mercury Retrograde. Allow yourself to soften and surrender.
Mercury goes Direct – June 3
Stagnation comes to an end and you can feel things moving forward with bright, light, easygoing energy again.
Mercury enters Gemini – June 13
Gemini is adaptive and intelligent, and Mercury is a force to be reckoned with. Gear up for big energy and big moves.
Full Moon – June 14
Bring all your ideas into the clearing now and celebrate what you've accomplished.
Summer Solstice – June 21
Make a bonfire, light candles, and get ready for the sun to be at its closest position to the earth. Channel all of your positivity on this brightest and longest day of the year.
Venus enters Gemini – June 22
Love and desire combine with chatty and flirty for big love emotions. Go with it.
New Moon – June 28
We finish the month with a period of darkness and reflection. How far have you come since the full moon? Stay up on what should be clear summer night and try to catch the outline of the new moon in the night sky.
June 2022 Horoscope by Zodiac Sign
Gemini (May 21 – June 20)
Gemini is ready for that leadership role this month. You are at your best, strongest, and most powerful under your sign. Channel all your intelligence and adaptative energy to bring your goals into full view and follow your signs to reach them. Expect your love and family relationships to be filled with bliss. Plan a summer solstice party to celebrate your achievements.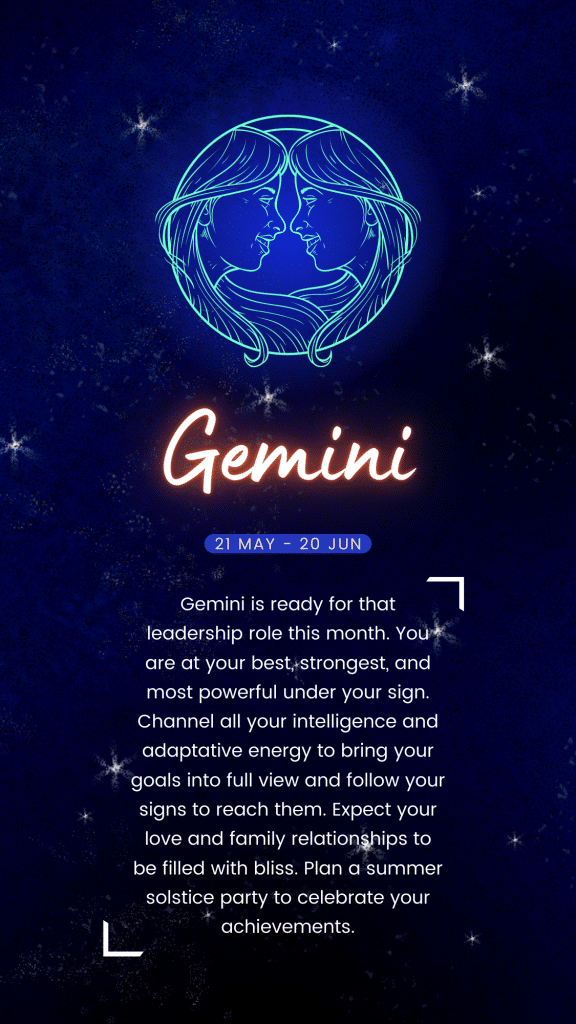 Cancer (June 21 – July 22)
Darkness will try to pull at you under the Gemini sign, Cancer. But you're ready for it. Do your shadow work, confront your ego, and follow your intuition to lead with love. You've got this. By the solstice, you will be able to stand back and take pride in how you faced your demons and flipped a situation to the positive. When they go low, you go high.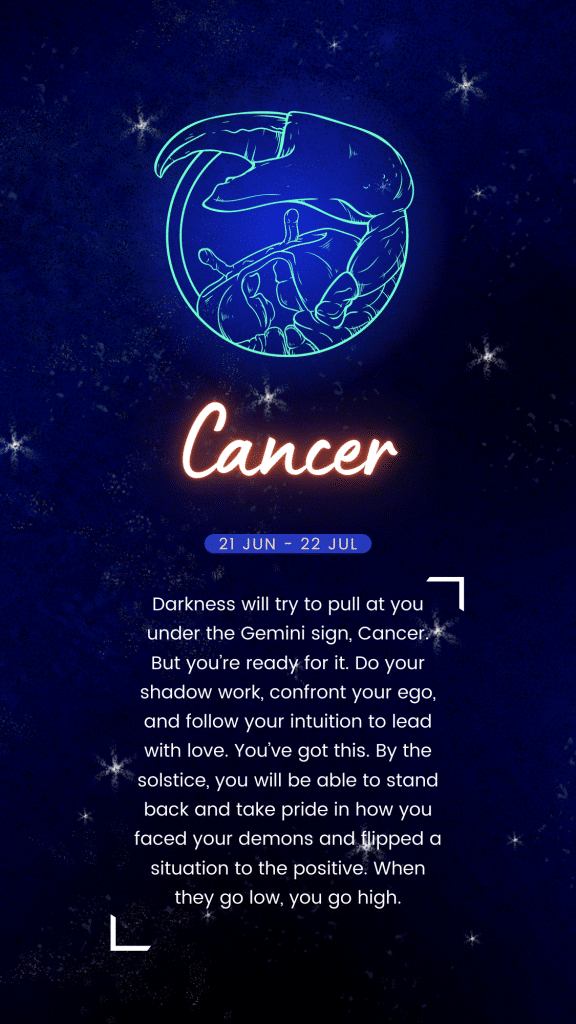 Leo (July 23 – August 22)
June is a month of travel for Leo. If you love to travel, look for opportunities to get away. If you are still working your way into venturing out, take a day trip to see something new and broaden your horizons. Your finances are feeling abundant, so you have no worries there. You are feeling prosperous and abundant. Use that energy to face parts of yourself you may have been hiding away.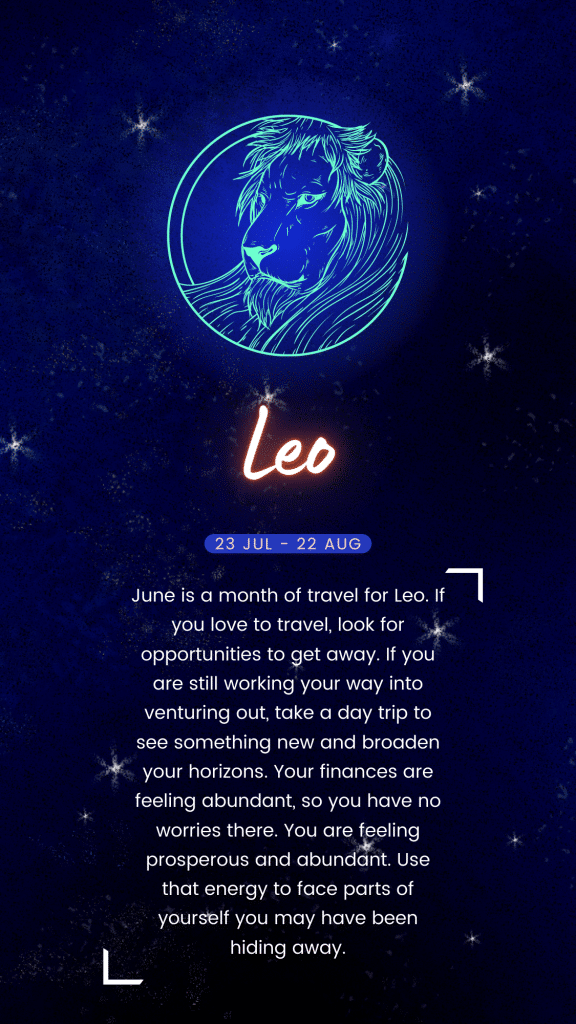 Virgo (August 23 – September 22)
Virgo is feeling good from your head to your shoes. Your health house is in order, physically and mentally. Use this energy to focus on your spiritual journey. Connect with the divine. Put some new rituals into practice, perhaps under the full moon, the solstice, and the new moon. You are far more powerful than you are allowing yourself to recognize. It is time to step into your true self. This approach will allow you to see your way through any professional challenges you may face this month. You are unstoppable.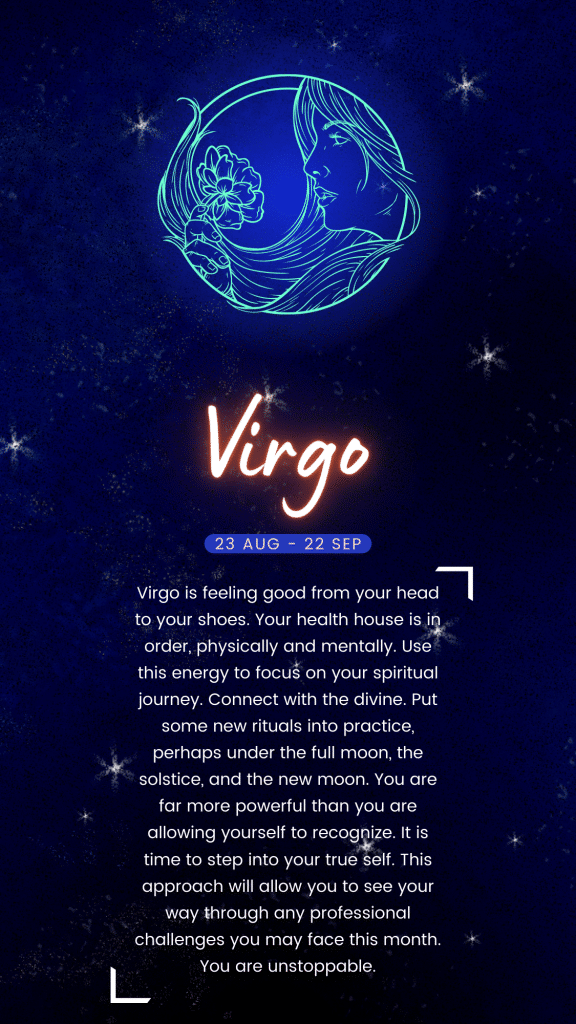 Libra (September 23 – October 22)
Be true to yourself this month, Libra. Gemini is a time to tell the truth and face the consequences. You have been lying to someone or to yourself, and it may take some digging to get to the heart of matters. Once you step into your authentic self, though there may be some fallout, you will see signs of great abundance both financially and professionally. You may even decide to celebrate with some travel at the end of the month.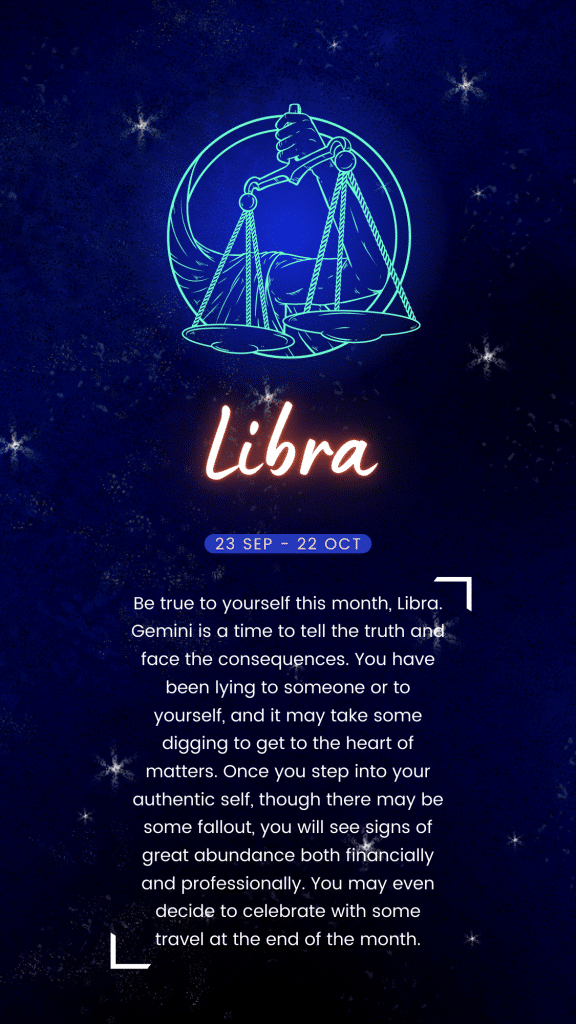 Scorpio (October 23 – November 21)
Be present for your loved ones this month, Scorpio. If you have children, revel in them. This is a time to sit in love and laughter with those closest to you and really express what they mean to you. This may be difficult for you, but it is time to be open to both compliments and criticisms this month. Accept what others tell you with an open heart and an open mind, and you will find yourself blossoming into the loving being you have always known you are.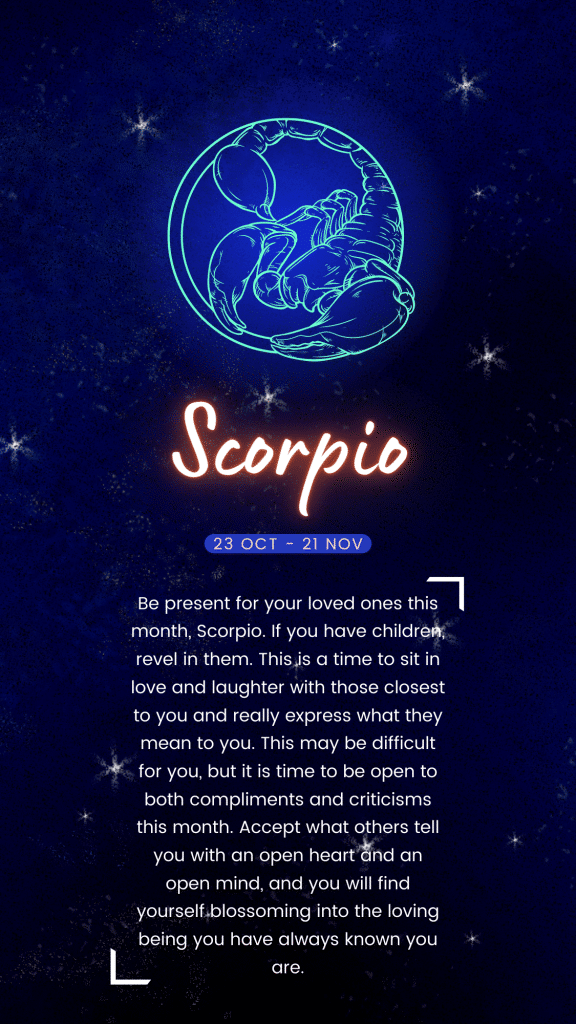 Sagittarius (November 22 – December 21)
Get down to business, Sagittarius. This is your month for professional and financial striving. Your business relationships will blossom, and your network will grow. You are a powerhouse in your field, and it is time to own it as other people really start to recognize your worth professionally. Stay on top of your education and expand your mind with new teachings, ways that can make you even more masterful at what you do. You are truly becoming an expert.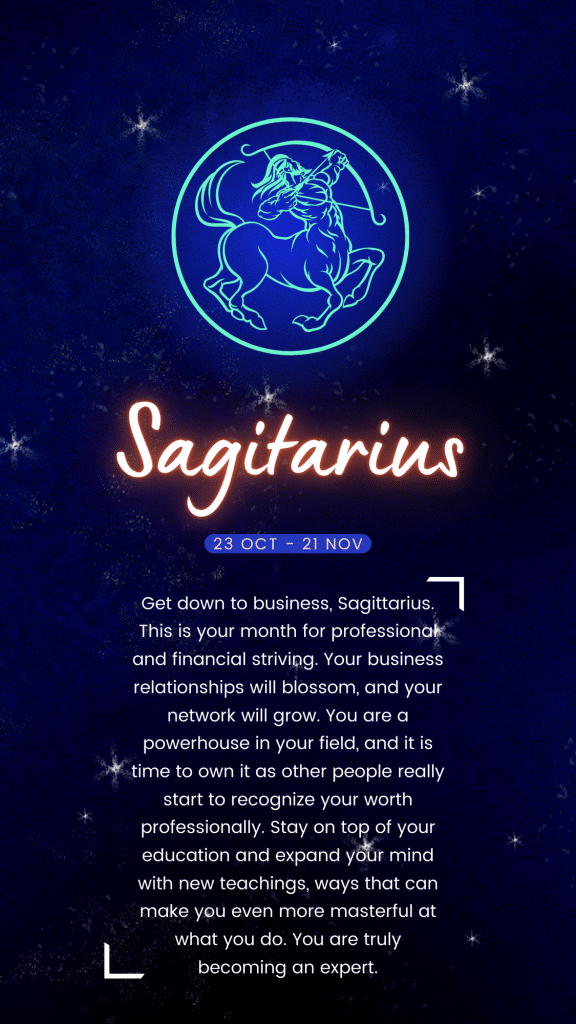 Capricorn (December 22 – January 19)
Capricorn, June is a time to become more trusting. You have been skeptical, needing evidence and empirical data for everything. It is time to open up, trust your intuition, and step into your divinity. Once you do, watch out. You will start manifesting much more quickly than even you might be prepared for. Trust that you are responsible for it all. Take nothing for granted and write nothing off to chance or luck. Breathe and be patient with yourself as you grow in this area.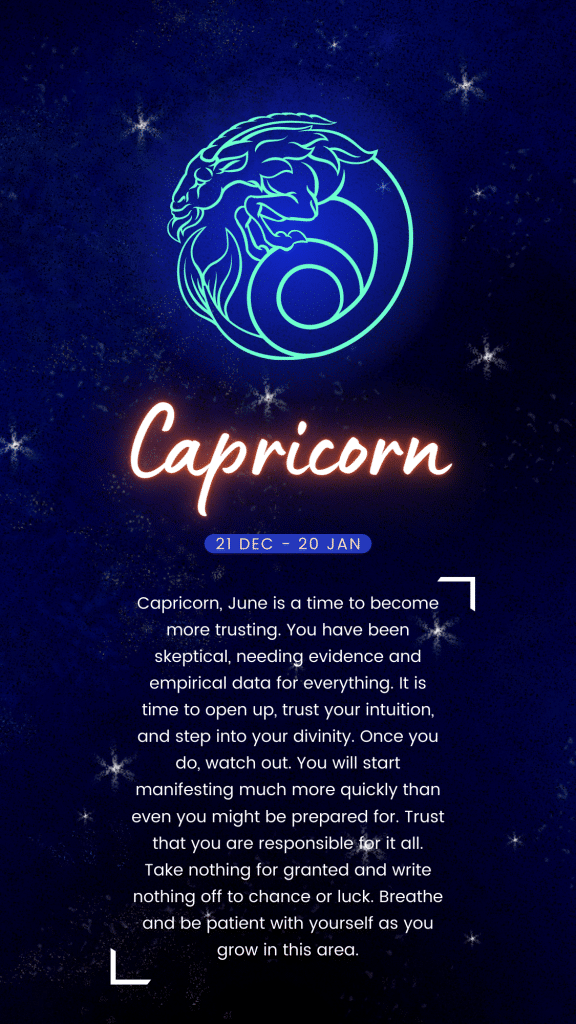 Aquarius (January 20 – February 18)
You've got some health changes to make this month, Aquarius. Signs have been telling you it is time to get your physical health in order, and you have been ignoring those signs. Ignore them no longer. Now is the time to be at your best physical health, make the lifestyle changes you know you must, and cut toxicity, in the form of food and drink as well as people, out of your immediate sphere of influence. As you make these changes, watch as other parts of your life change for the better as well.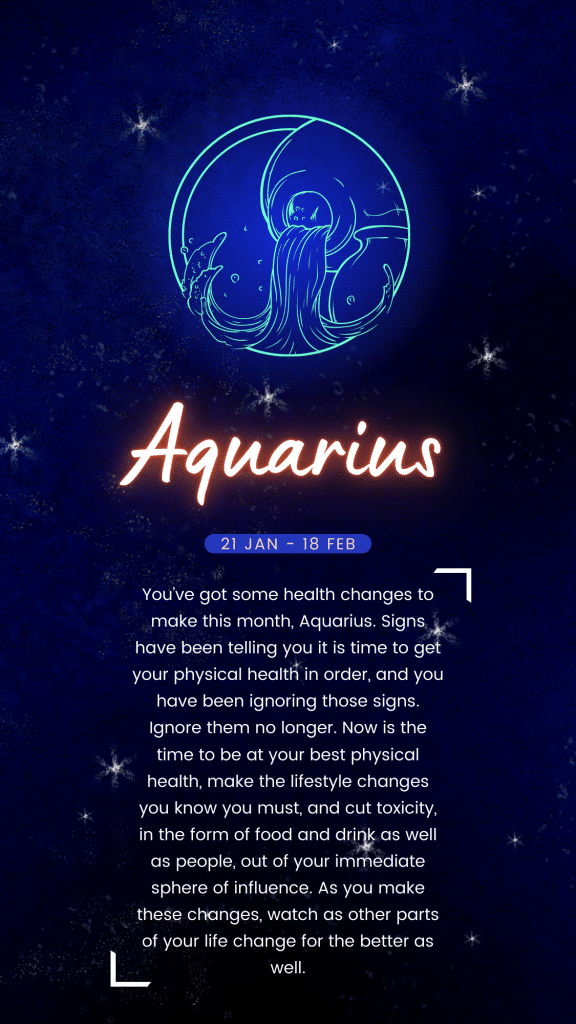 Pisces (February 19 – March 20)
Passion and romance are tapping you on the shoulder and knocking at your door this month, Pisces. If you're in a committed relationship, throw yourself into it with great abandon. If you're single, look for that unmistakable spark of passion in the form of a new love. Appreciate your body and your spirit for their ability to feel such big feelings this month and surrender to the whims of passion. You will be glad you did.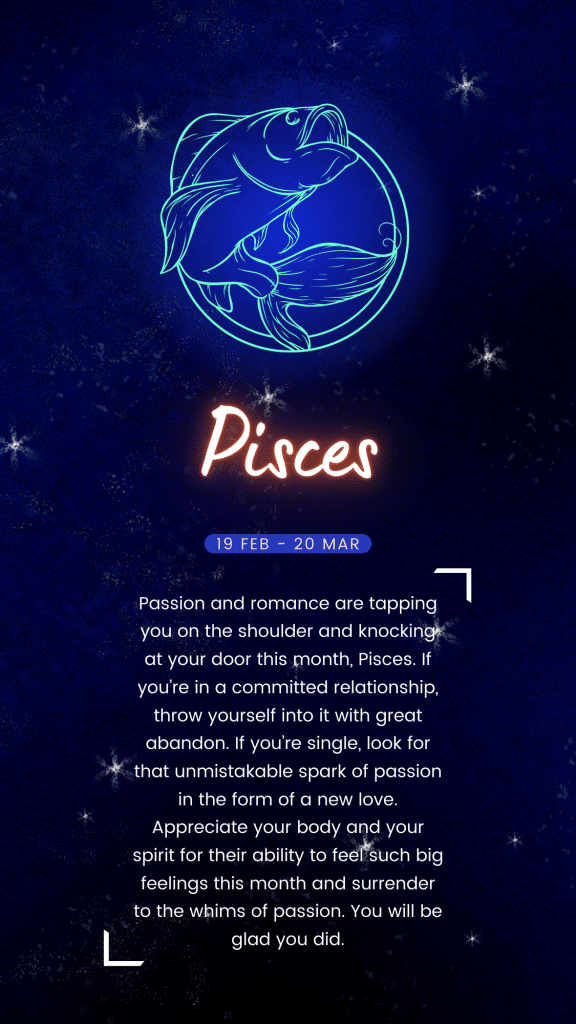 Aries (March 21 – April 19)
Dig in with family this month, Aries. You will find challenges from outside – maybe financially, maybe professionally or academically – but they are small and will have minimal long-term impact if you don't let them affect you. You can settle your worried heart and mind by focusing on what really matters, the people in your life who love and support you. Stay in the light, even when you're feeling dark. Make a big bonfire for summer solstice to remind yourself how bright things really are in your life.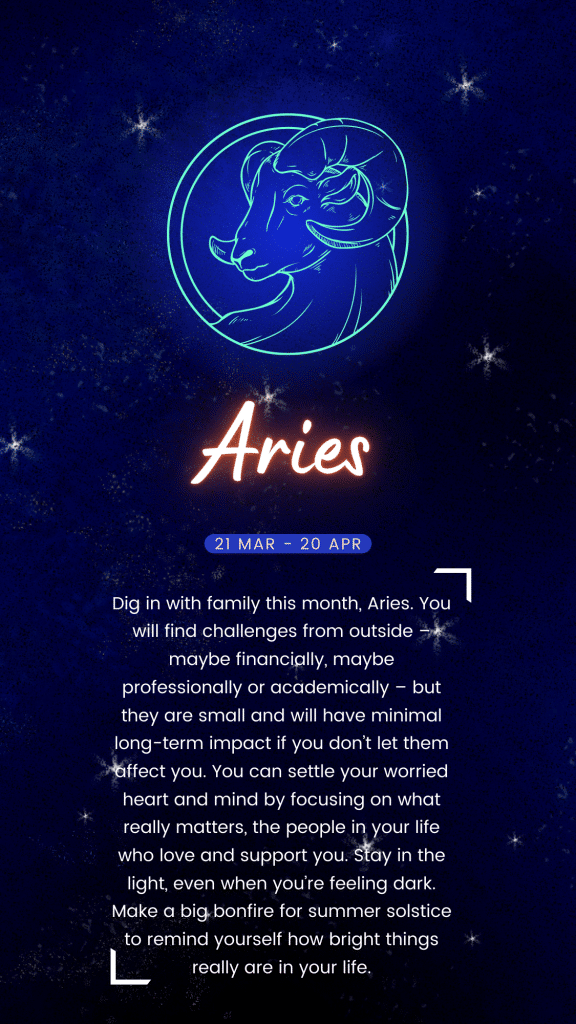 Taurus (April 20 – May 20)
Again, use these messages to your own positive benefit. Astrology is here to support you and help you channel both your energy and the energy of the universe to your great abundance. You are the child of an infinitely loving, infinitely wise, and unendingly supportive universe. Trust trust trust that this month, and watch your divinity come alive.
Your finances take a turn for the better this month, Taurus, and you have a real opportunity to pivot that into great positive change in your career and business. You can turn a penny into a dollar if you listen to your intuition and trust that you live in a universe that is always rooting for you. Follow your signs to abundance and focus on gratitude for the financial wealth you already have, and watch it grow.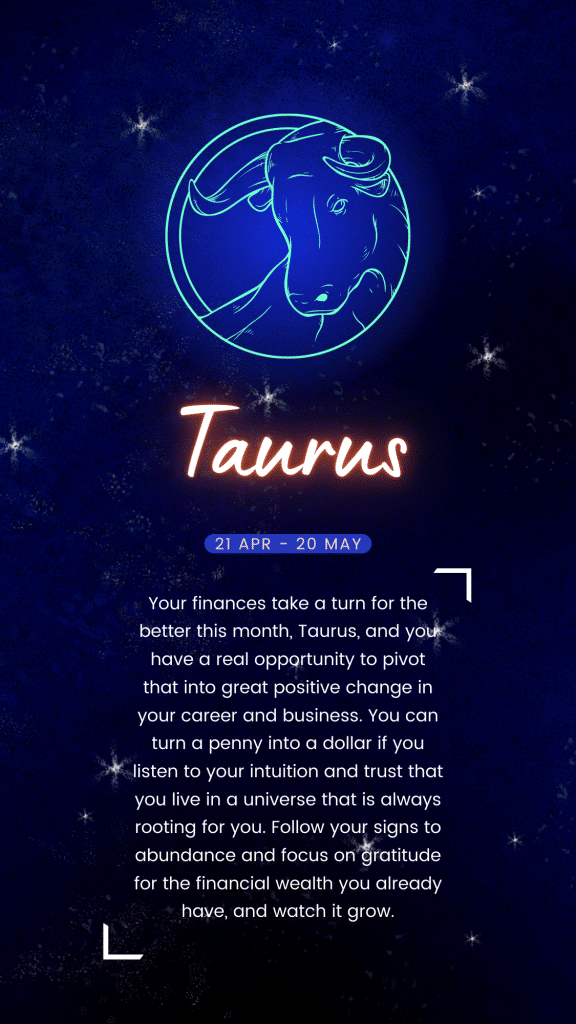 Happy manifesting!