May is a huge month for us all. We enter the introduction to summer, the return of light and steadfast love, and we fully shake off winter and spring, those last dregs of sluggishness and sleepiness.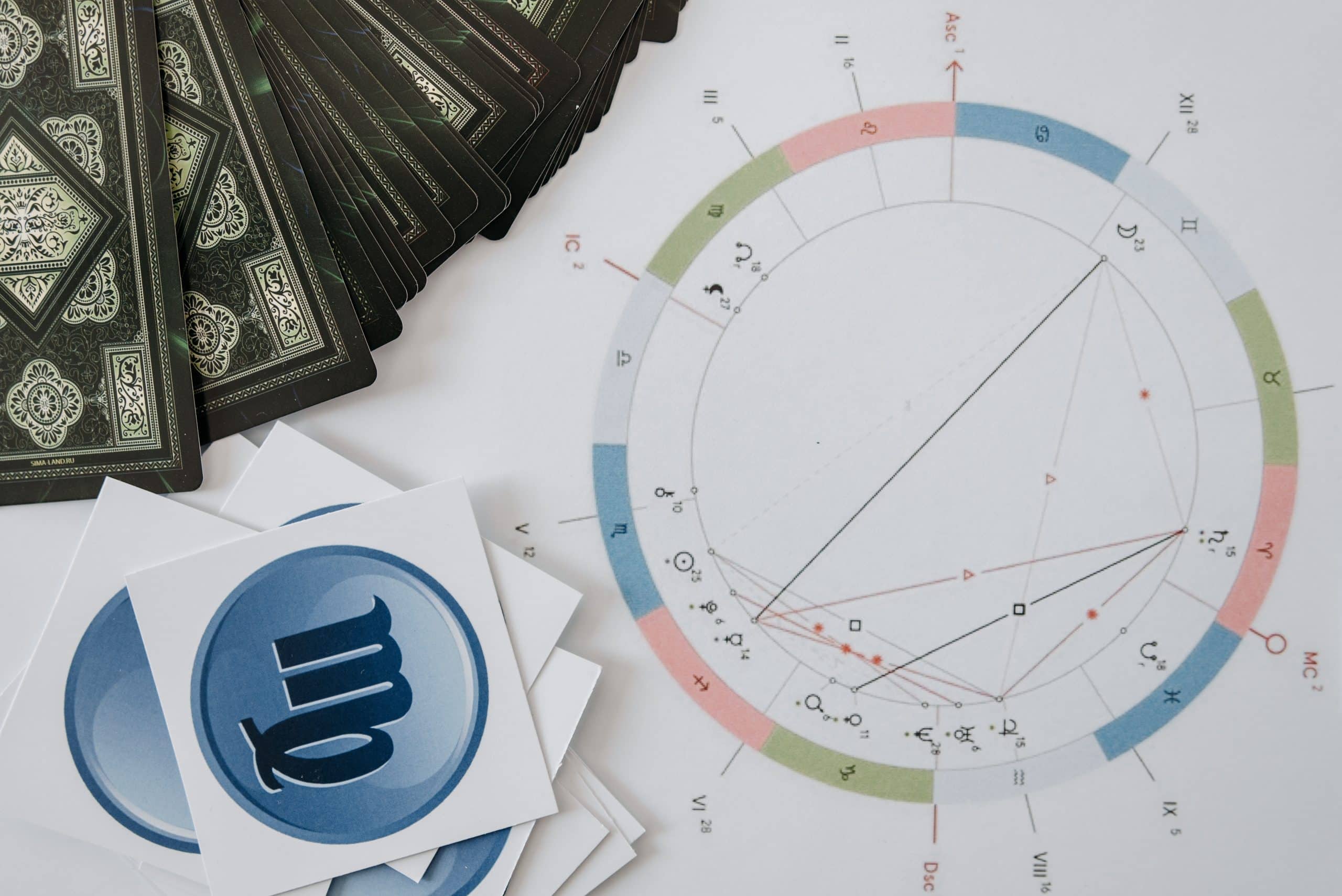 We're in it now.
As you read this horoscope, work to align yourself, your sign, and the message for your sign with the season and the cycle we are in.
Astrology comes in quite handy when it comes to paying attention to seasons and cycles. While some of the messaging here might not hold specifically true for your specific situation, the generalizations here are universal.
The earth spins on a predictable axis, the moon cycles in predictable phases, and humans vibrate with both, as well as the sun, predictably. One of the best practices you can put into place for yourself is to set predictable, healthy routines and habits along with these seasons and cycles so that you can push yourself to your highest good from a strong, safe foundation.
Also keep in mind that while your specific zodiac sign may say a lot about you, there are a number of other elements in your birth chart at play, such as the year you were born and the locations of the sun and planets on your moment of birth.
This horoscope is broad and general and designed to give you some insight into how your life may look for the month of May in 2022.
May 2022
May starts off with a bang, with Beltane, and we move into deep love, following through with our practices, commitment to our causes, and being true to ourselves in the face of doubt and danger, even and especially when that doubt and danger comes from within.
We have done our shadow work by this time in the year, and it is now time to bring forth all we learned during those periods of self-discovery and use our voices. Unblock our throat chakras. Speak our truths.
Beltane – May 1 through 5
Beltane is the midway point between the spring equinox and the summer solstice, traditionally celebrated on May 5, but moved to May 1 when the church began to become more powerful so that the pagan holiday would coincide with May Day, a much milder, but still fun, celebration of spring.
Also note that the new moon is still pretty dark as it appeared on April 30, just one day earlier, so you are literally coming out of a period of complete darkness and into full light. This is a great time for big bonfires and embracing intimacy with a safe and loving partner.
Venus enters Aries – May 2
This is a fiery love period. Your relationships will feel passionate and enthusiastic. Don't hold back.
Mercury goes Retrograde – May 10
Things will feel out of whack, backward, and off the rails. Keep in mind that it is all perception. What feels like it is going wrong is often just giving us a much-needed break. Hold fast and stay true to your goals.
Full Moon and Lunar Eclipse – May 15
Now you see that your life is exactly on track, and you can celebrate your progress. Reflect on how far you have come and congratulate yourself for not freaking out about Mercury Retrograde.
Mercury Retrograde enters Taurus – May 22
Things will feel like they're slowing down, put on hold, or disappearing. Remind yourself that you do not always have to go go go. That a tremendous part of self-care is rest. Breathe through your frustrations.
New Moon in Gemini – May 30
Lean into that relaxed vibe you've been working toward all month and spend this dark moon with friends and family. It's a good time to look at the sheer abundance of your life, shifting your negative into positive for the month to come.
May 2022 Horoscope by Zodiac Sign
Taurus (April 20 – May 20)
You're feeling alive this month, Taurus. Alive, well, and full of energy and vitality. Work with that energy to grow your relationships, your finances, and your career. Energy is at the foundation of everything you do, so do not take it for granted. Embrace your feelings of limitless power. They are the real deal. Look for open doors and opportunities to expand upon that energy. This is your month.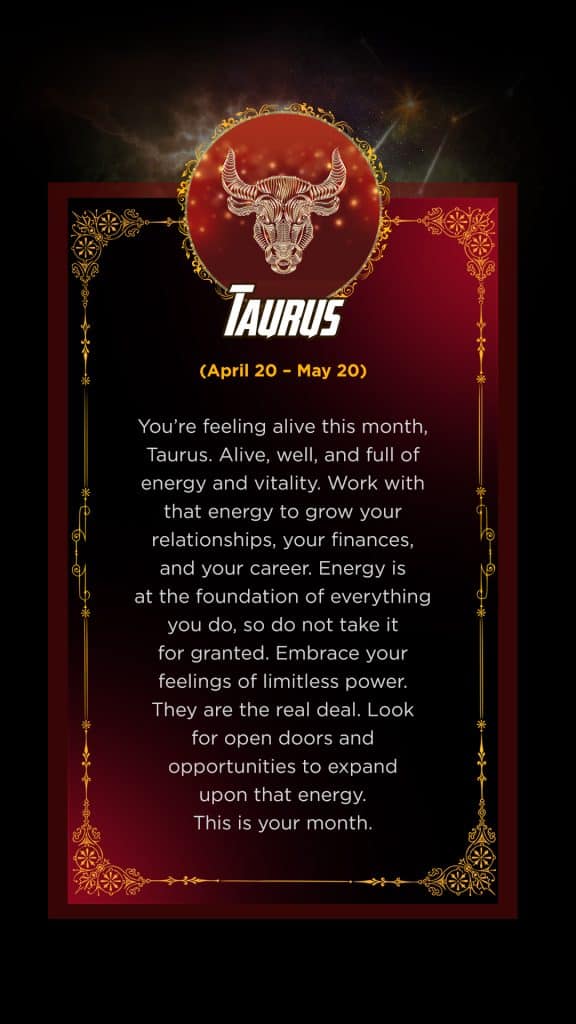 Gemini (May 21 – June 20)
You are under a lucky star this month Gemini, with all the blessings and fortune shining down on you. Watch for every single thing that goes your way, from the little to the large. The more you notice, the more you will notice, until you close out this month feeling like nothing can possibly go wrong for you. Now is the time to be fully grounded and live in the present, focus on the joy of each and every moment. Do not let fear of failure or self-doubt get in the way of your blessings.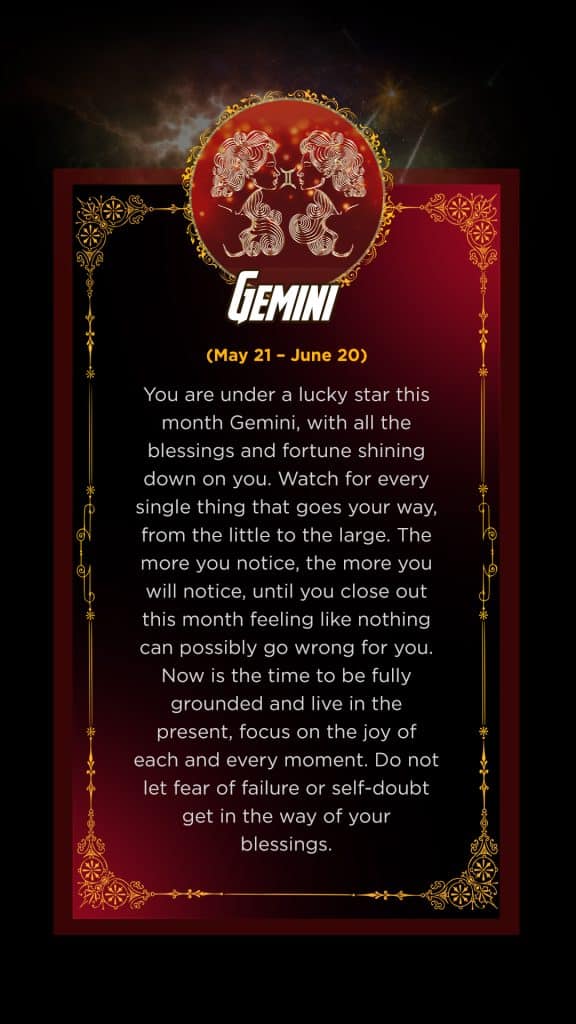 Cancer (June 21 – July 22)
This month, it feels like everything is happening all at once, and you may be a bit overwhelmed. Remember to breathe, Cancer. This is one of those times in your life when the people around you will say "I don't know how she does it all." Remember who you are. This is your strength. You can do it all. Just keep doing the next right thing, one thing at a time, and it will all get done. When you start to fall behind, or when you fall down, just get back up and keep moving forward, at whatever pace works for you in the moment.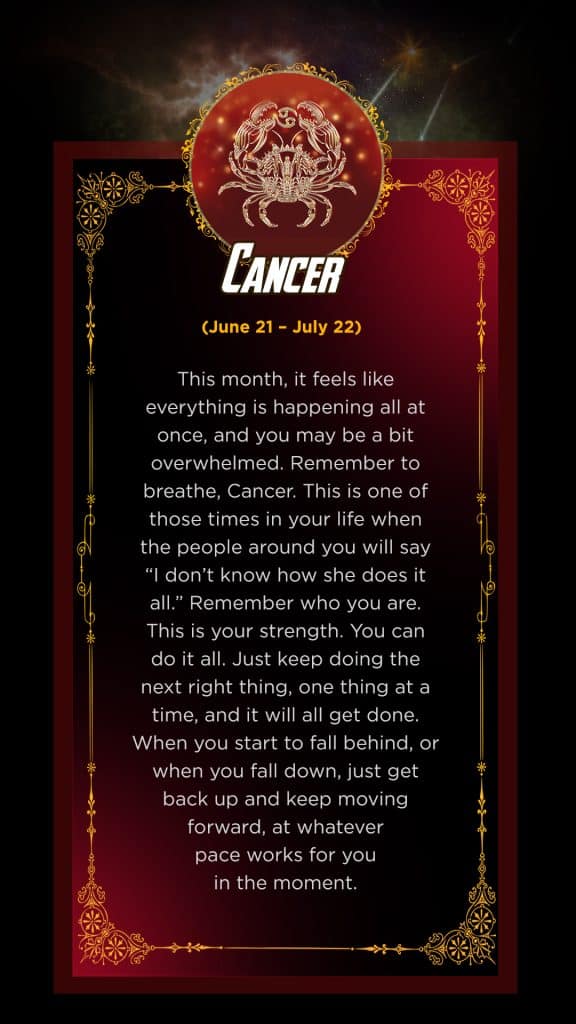 Leo (July 23 – August 22)
Focus on the good this month, Leo. You will have times where you feel like you're falling apart and failing. This is normal, it is human, it is all part of the process. You grow in these moments, so rather than lose faith in yourself, keep your eyes open and learn. And remember to ask for help! You have friends and family ready and waiting to come to your aid. Let them.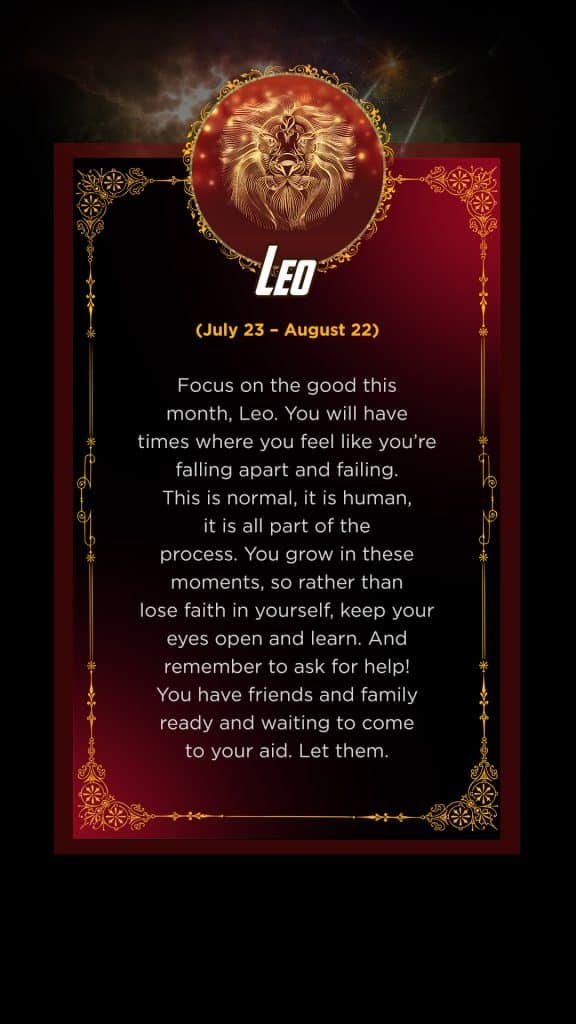 Virgo (August 23 – September 22)
Love is in the air for Virgo this month. Fall into it, head over heels. If you're married, use this as an opportunity to deepen that relationship. If you're single, pay attention to romance on the horizon. And remember, the best way to love anyone is to love yourself first. Practice intense self-care and self-love and watch yourself grow into the most loving person possible.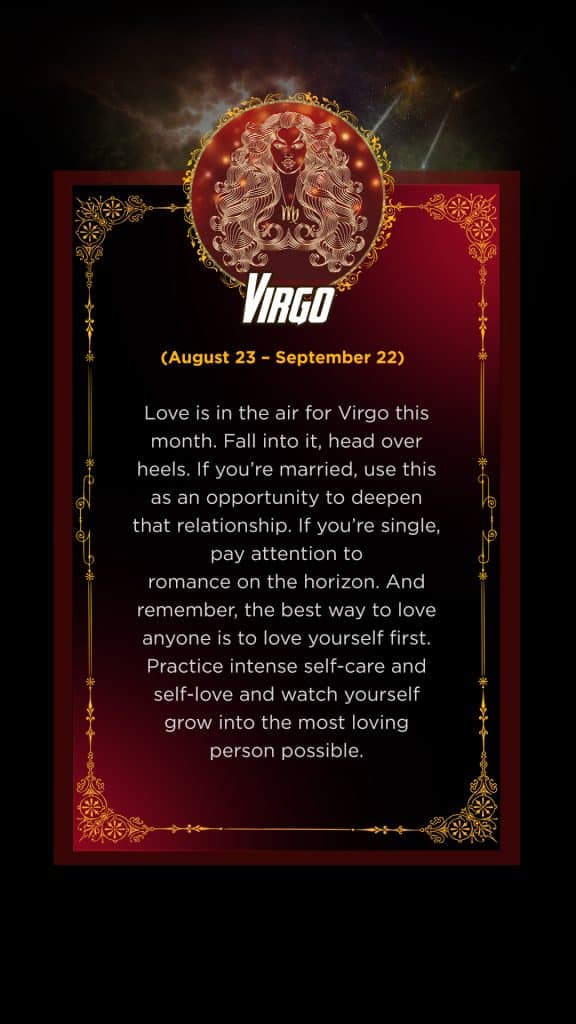 Libra (September 23 – October 22)
Your intellectual side may feel like its falling behind this month, Libra. It's time to pivot. Educate yourself, throw yourself into learning something new, to challenging yourself, especially in the area of finance. You have the power and the courage to overcome any problem that comes your way, and you will be that much better equipped with a sharp mind.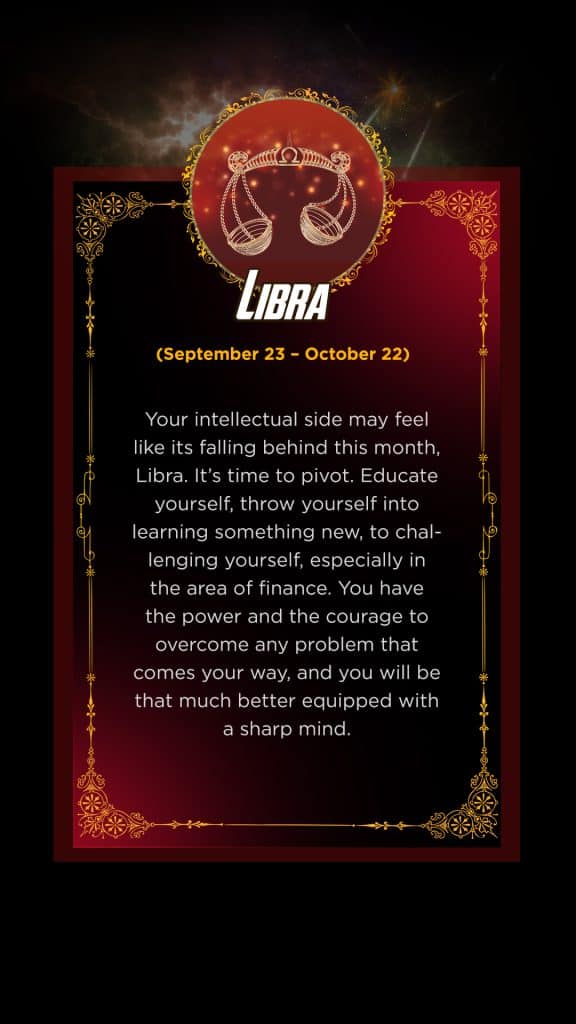 Scorpio (October 23 – November 21)
Focus on what matters this month, Scorpio. The world will try to make you pay attention to a million things, and if you let it, you will become distracted enough to let negative energy in and push aside your true passions and loves in life. Draw on your inner strength to stay positive, mentally and energetically. Make good use of your talents and skills and draw on your creativity to stay positive and in the light.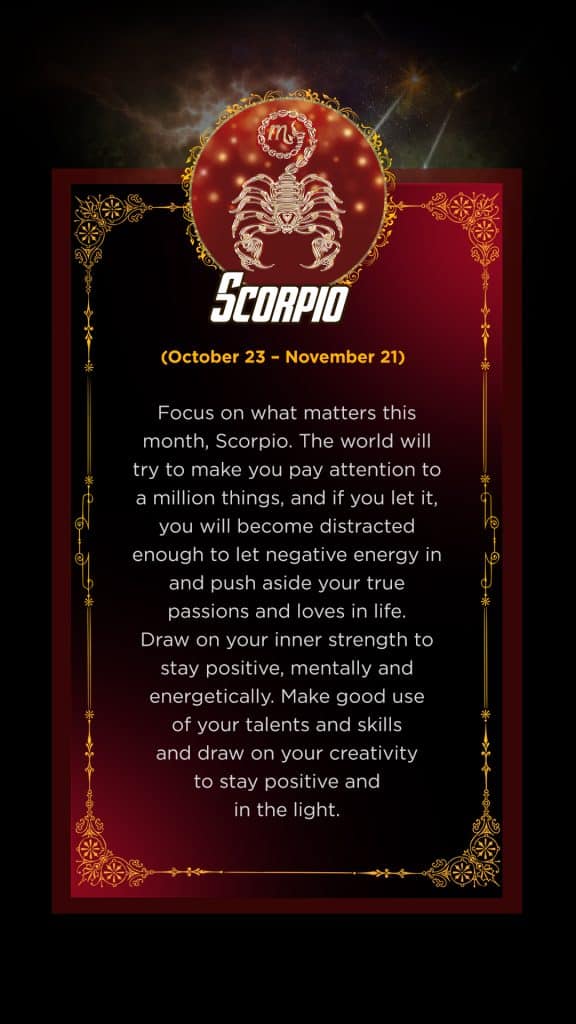 Sagittarius (November 22 – December 21)
May is the month for home for Sagittarius. You will need to put your house in order, focus on what is right in front of you, and strengthen it. You will get advice and guidance from outside, but be sure to stick to your own intuition, your own inner voice, and your own divine guidance. You already have everything you need to move forward. Remind yourself of that this month.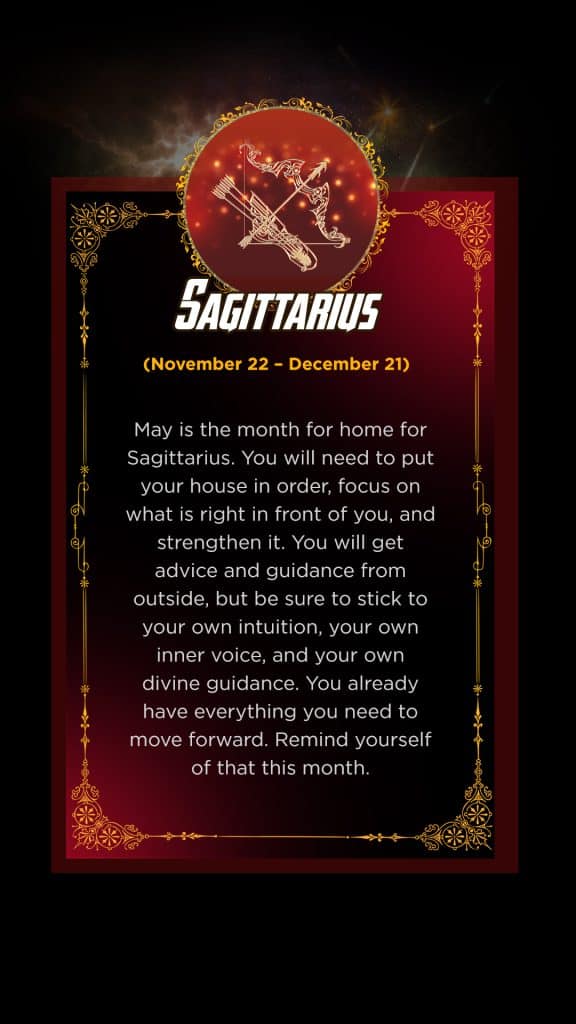 Capricorn (December 22 – January 19)
Your professional life will feel particularly challenging this month, Capricorn, but your health is at an all-time high. This is the time to decide if you want to keep pushing forward where you are in your career or make a move in a different direction. Either decision is okay, but it must come from within. Meditate on what is in your highest good and choose. Then trust that you made the right choice for you.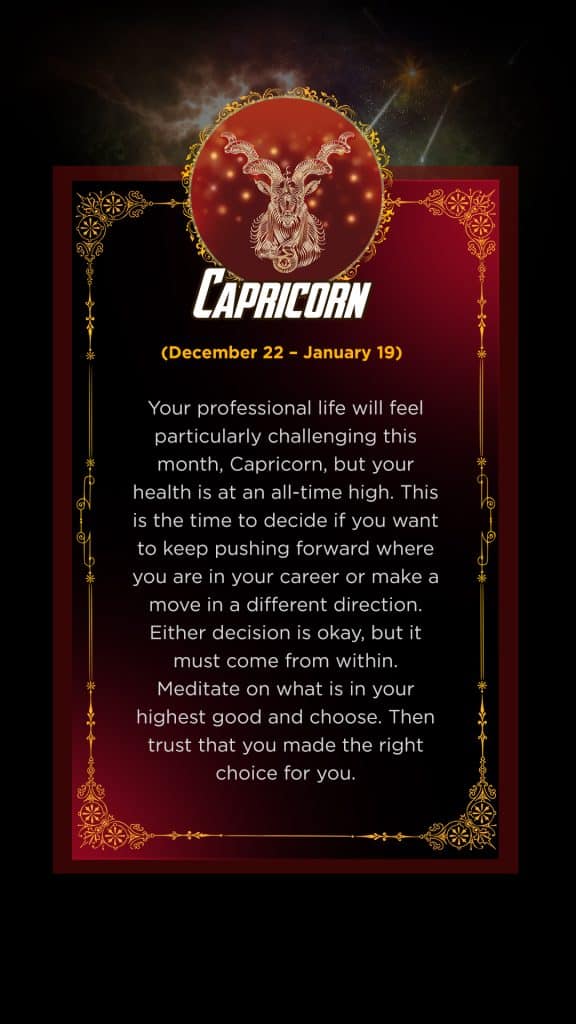 Aquarius (January 20 – February 18)
Aquarius can look forward to great change and transformation this month. Be open to it. Change is not only inevitable, but also necessary for growth and progress. Get yourself ready to adapt and shift to the ground moving under your feet. You will come out strong, happier, and much more successful for it. This is merely the eye of the storm. Breathe. You've got this.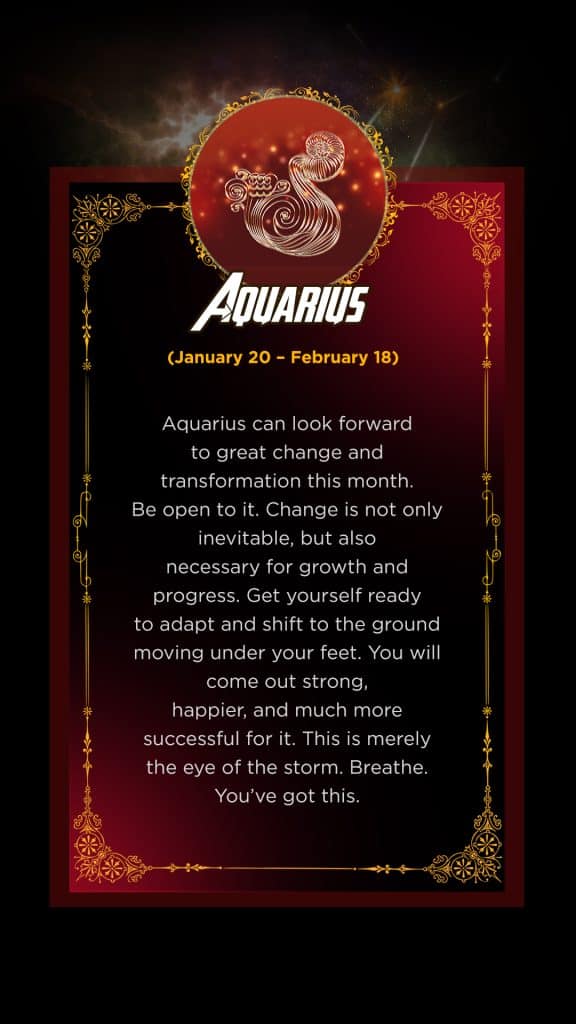 Pisces (February 19 – March 20)
You may feel like your finances are in trouble this month, Pisces, but it is an illusion. Your career and profession will show you how abundant your life is, even if you take a financial hit. You will rebound and come back stronger than ever. Stay the course and trust your skills and talents to lead you forward.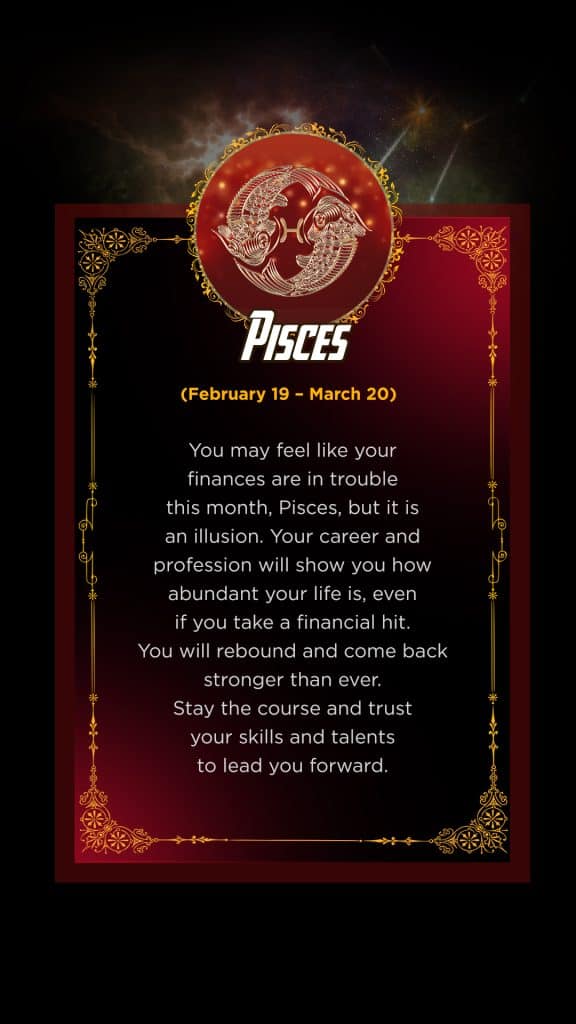 Aries (March 21 – April 19)
May ushers in financial freedom for Aries. Embrace it. Nurture your professional and personal relationships so that you may know how best to manage the money issues in your life and grow them to their greatest heights. Remember, it is people who matter. Money is merely a tool. Use that tool to get you where and what you want, but do not make it your god.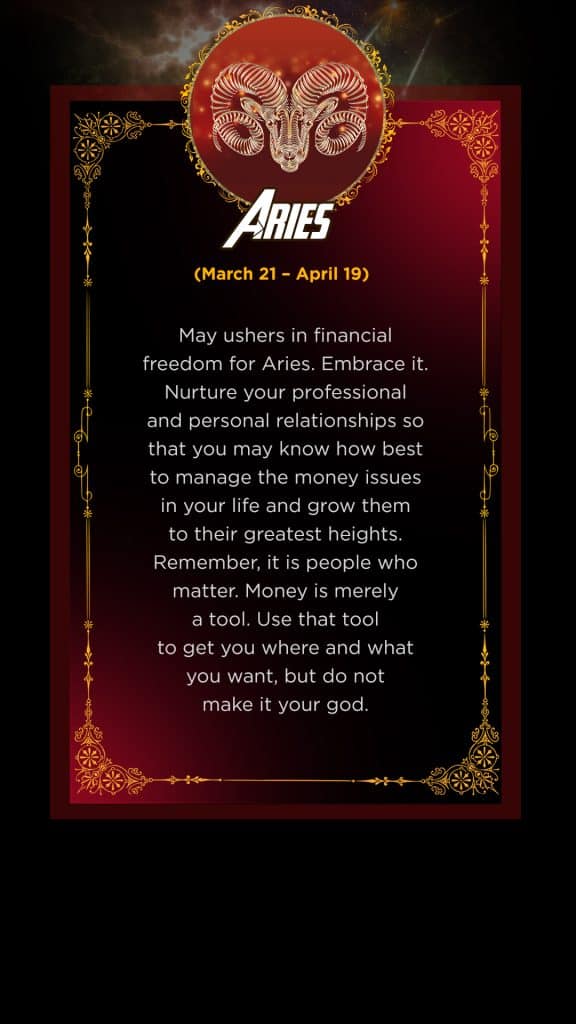 Sit with your horoscope this month and feel your way through what resonates for you. Keep it with you, use it as a tool to guide you, and always, always check in with your intuition on all things. Nothing is more powerful than your inner voice.
Happy manifesting!