September is harvest month. We reap what we have sown. We step into our abundance.
The sun transits the constellation of Mercury between August 22nd and September 21st.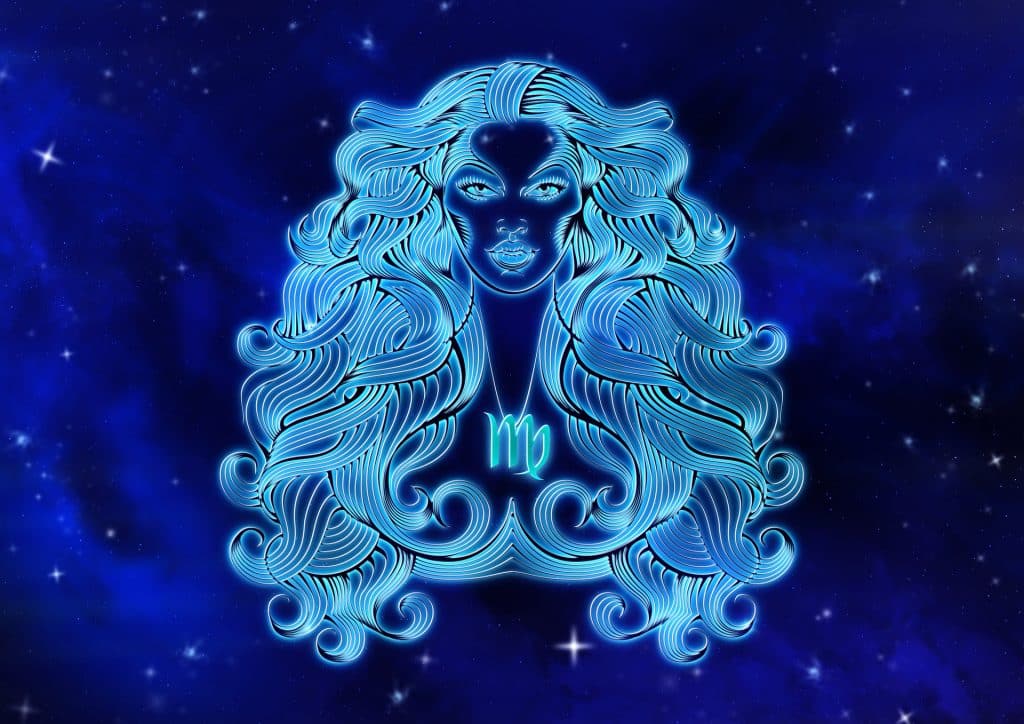 It is this month when we start to feel a sense of accomplishment. We have worked so hard all year and now we enter the final push into autumn. We finish our projects, we close things out, and we wrap things up. This is the beginning of the end of a cycle and it is felt intensely in September as perhaps at no other time during the year.
We close out summer, saying goodbye to the brightest days of our year and begin to feel the brisk, coolness of the fall days.
Remember that astrology serves as a guide for your spirit and your connection to the universe. The messages contained here speak not only to the location of the sun and the planets but also to a generalized energy of your inner being and its human form, based on the sign under which you were born.
Also keep in mind that any horoscope, reading, or messaging that is rooted in fear and negativity is not coming from the divine.
The divine, the universe, does not speak in negatives.
The universe only operates from a place of yes.
This horoscope for September is necessarily broad and general and speaks to what is happening in the grand cycles of the universe as they relate to your overarching birth sign. Take it lightly and gently and respond from a place of openness and love.
September 2022
In the northern hemisphere, September is the month of Virgo, which represents the virgin. Mythologically throughout history the true meaning of virgin is one who is independent, empowered, self-possessed. She is a precise and critical thinker, acting from a place of service and reception.
Virgo is an earth sign and deeply feminine, which means this is a time to access your divine feminine side, whether you are male or female biologically. Get into receptive mode, align with your nurturing, welcoming, encouraging side. This is also our time to see ourselves as firmly planted, present, and true to ourselves. Wherever you are, be there, in that moment in time.
As we enter the autumnal equinox, the perfect balance between day and night later in the month, it is also a time to bring balance into our lives while we honor our roots.
We enter autumn hopeful and fulfilled by all that has come, and eager to see how it all comes together. Allow yourself time to observe and reflect the changing of the seasons, the turning of the leaves, the brightening of the colors, and all of that within yourself as well.
Venus enters Virgo – September 4
The planet of love enters the sign of practicality. Be mindful of who you give your heart to.
Mercury goes Retrograde in Libra – September 9
Misunderstandings and poor communication feel heightened for the next three weeks, especially in the love arena. Breathe, remain calm, and have faith in your deeply rooted relationships. This too shall pass.
Full Moon in Pisces – September 10
This is a dreamy and mystical moon that will help us get through retrograde with feelings of calm and peace. Shift your focus to controlling only the controllable and not expending energy on needless worry. All worry is needless.
Sun enters Libra/Fall Equinox – September 21
Balance, peace, and harmony are upon us as we enter Libra season. Deal with conflict and struggle with grace and harmony, remembering that we are all connected, and most of the time, we are just not seeing the light within each other.
New Moon in Libra – September 25
This new moon offers an emotional reset and brings balance back to our lives. Consider forming new relationships and trust the clarity you see with your intuitive third eye.
September 2022 Horoscope by Zodiac Sign
Virgo (August 23 – September 22)
This is your month, Virgo, and all of your hard work and dedication is coming to fruition. Expect to see it all pay off after a long haul. Be willing to make sacrifices and double down in some areas. Your intuition will tell you where. When people try to help you, let them. When mentors try to guide you, let them. Now is a time of great change for you, and you will get all you desire.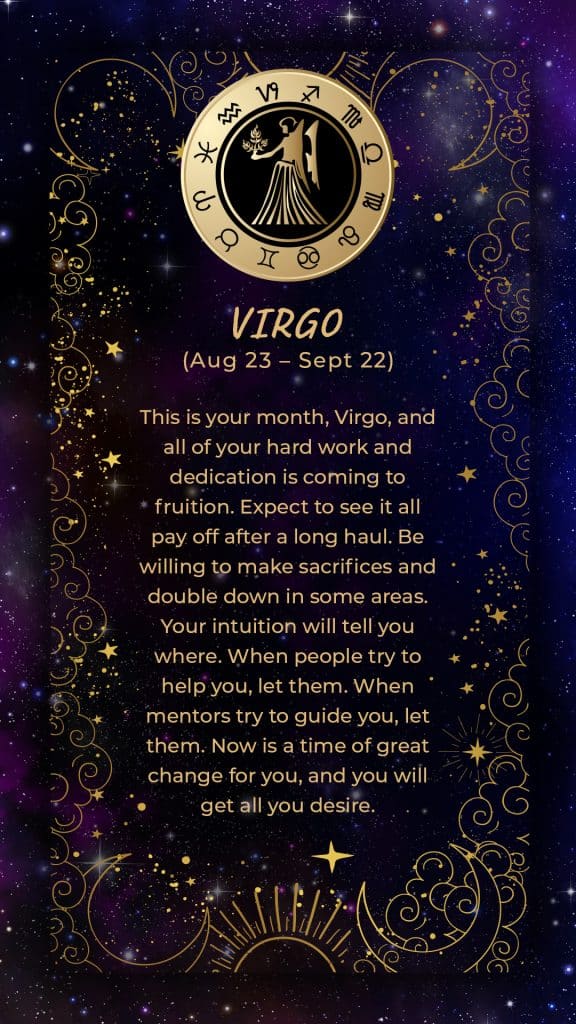 Libra (September 23 – October 22)
Draw on your stores of confidence and truth this month, Libra. You have come too far to turn back now, and while you will experience some self-doubt, know that it is empty. You can do this. Follow your joy and your bliss, and remember to be true to yourself, and you will see clear signs pointed toward your success.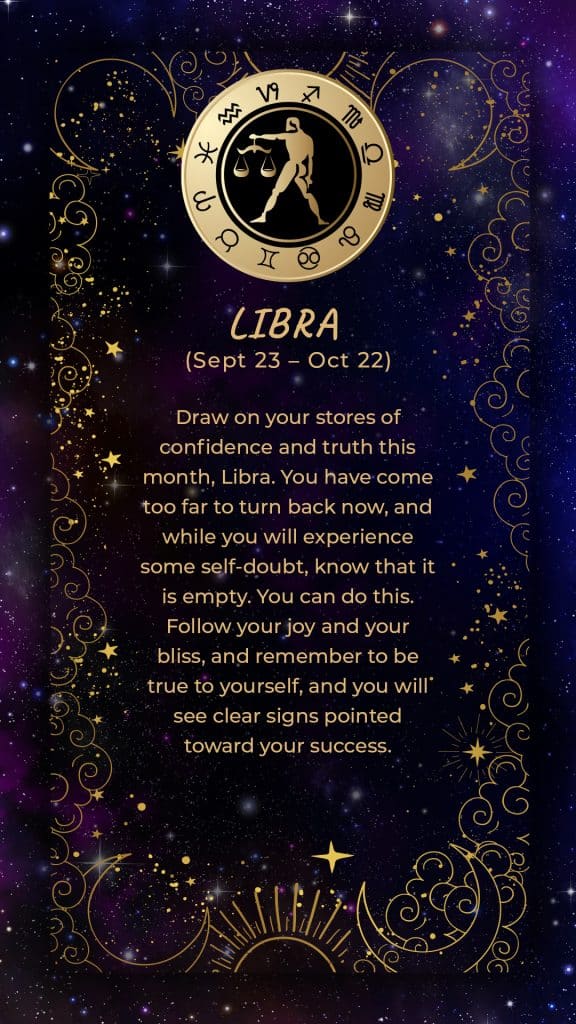 Scorpio (October 23 – November 21)
Scorpio, it is time to sit back and take stock of all you have accomplished. You deserve to be very proud of yourself for all you have done and who you have become. You are not the same person you were even a year ago. People love you and are happy just to be around you. You exude positive energy and you influence others positively as well. Take a moment for real gratitude before you start planning for an even brighter future.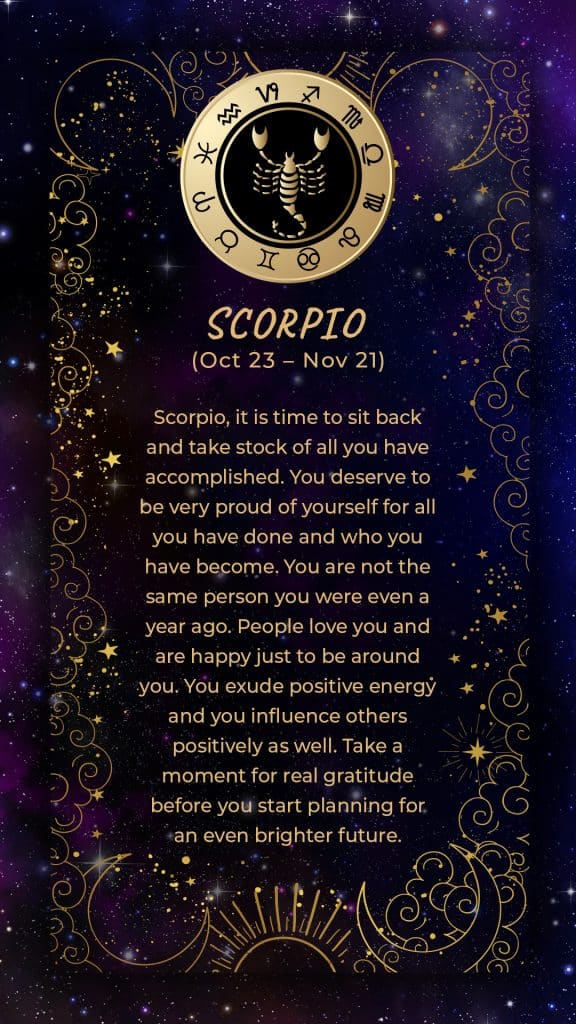 Sagittarius (November 22 – December 21)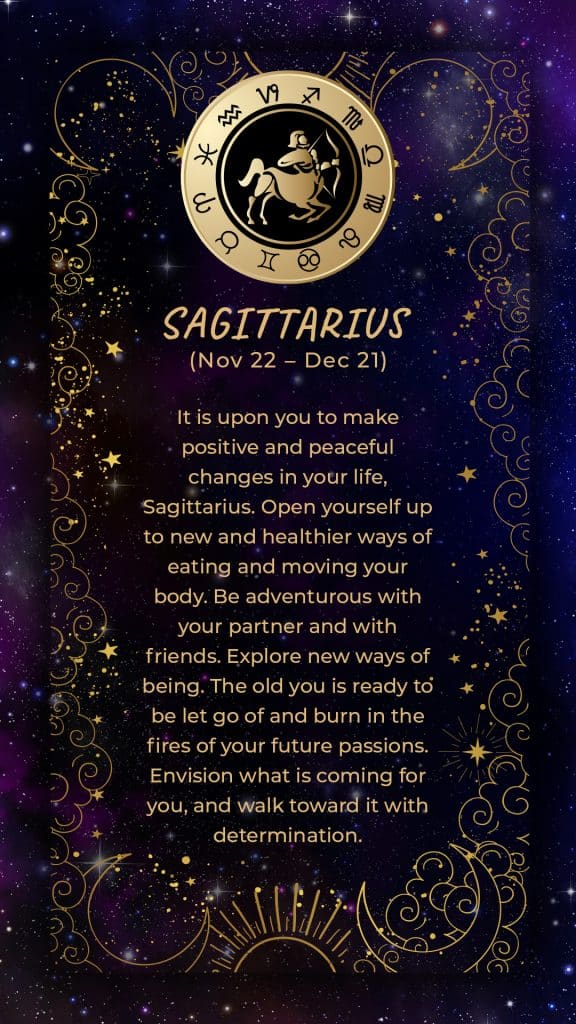 It is upon you to make positive and peaceful changes in your life, Sagittarius. Open yourself up to new and healthier ways of eating and moving your body. Be adventurous with your partner and with friends. Explore new ways of being. The old you is ready to be let go of and burn in the fires of your future passions. Envision what is coming for you, and walk toward it with determination.
Capricorn (December 22 – January 19)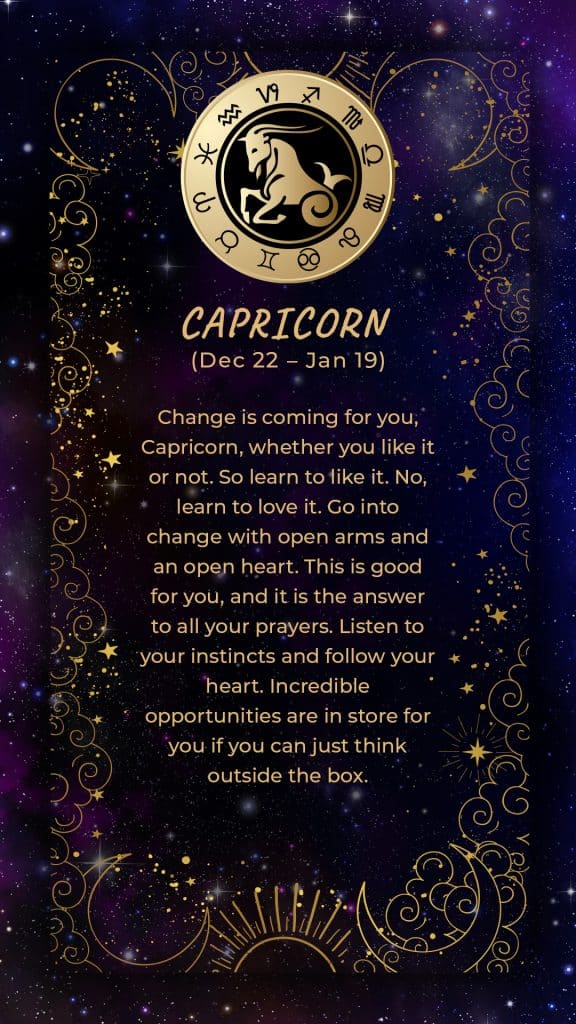 Change is coming for you, Capricorn, whether you like it or not. So learn to like it. No, learn to love it. Go into change with open arms and an open heart. This is good for you, and it is the answer to all your prayers. Listen to your instincts and follow your heart. Incredible opportunities are in store for you if you can just think outside the box.
Aquarius (January 20 – February 18)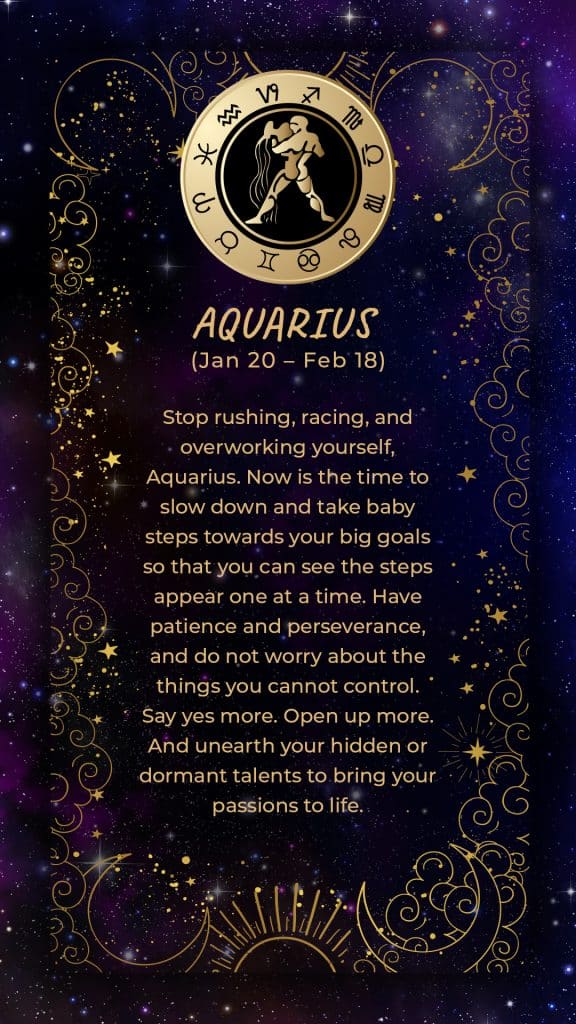 Stop rushing, racing, and overworking yourself, Aquarius. Now is the time to slow down and take baby steps towards your big goals so that you can see the steps appear one at a time. Have patience and perseverance, and do not worry about the things you cannot control. Say yes more. Open up more. And unearth your hidden or dormant talents to bring your passions to life.
Pisces (February 19 – March 20)
You will be an active participant in making your life better this month, Pisces. And you will feel it without a doubt. This is your month to realize that you have always been in control. You have always had the power. You are the driver. Take the wheel. Surround yourself with positive people and positive energy, be influenced by them, and nothing can get in your way.
Aries (March 21 – April 19)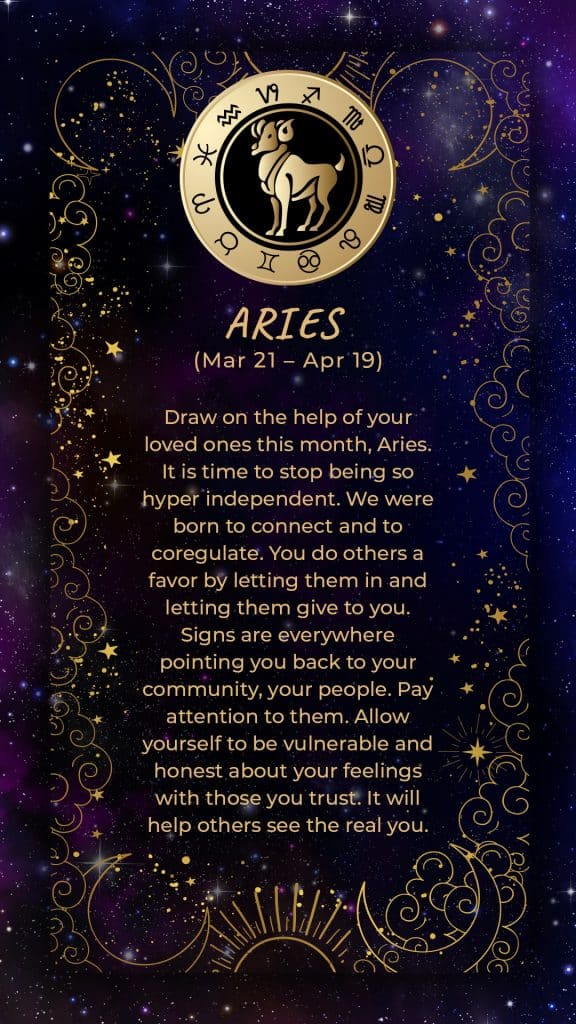 Draw on the help of your loved ones this month, Aries. It is time to stop being so hyper independent. We were born to connect and to coregulate. You do others a favor by letting them in and letting them give to you. Signs are everywhere pointing you back to your community, your people. Pay attention to them. Allow yourself to be vulnerable and honest about your feelings with those you trust. It will help others see the real you.
Taurus (April 20 – May 20)
Rely on your team this month, Taurus. You have big teamwork energy, encouraging you to work, and play, well with others. Your life is a collaborative one right now, and you need to be able to turn to your team to teach you and guide you as much as they need you for the same. Walk alongside others and learn a new way of doing things. It will open doors you never thought possible.
Gemini (May 21 – June 20)
Celebrate your achievements, Gemini! You are on a roll. Stop taking yourself for granted and start patting yourself on the back. You have done great things with your talents, and you will do many more. You have a great period of bliss and ecstasy in your life right now, and as it has been a while since you have felt genuinely happy, bask in these moments. They are hard won.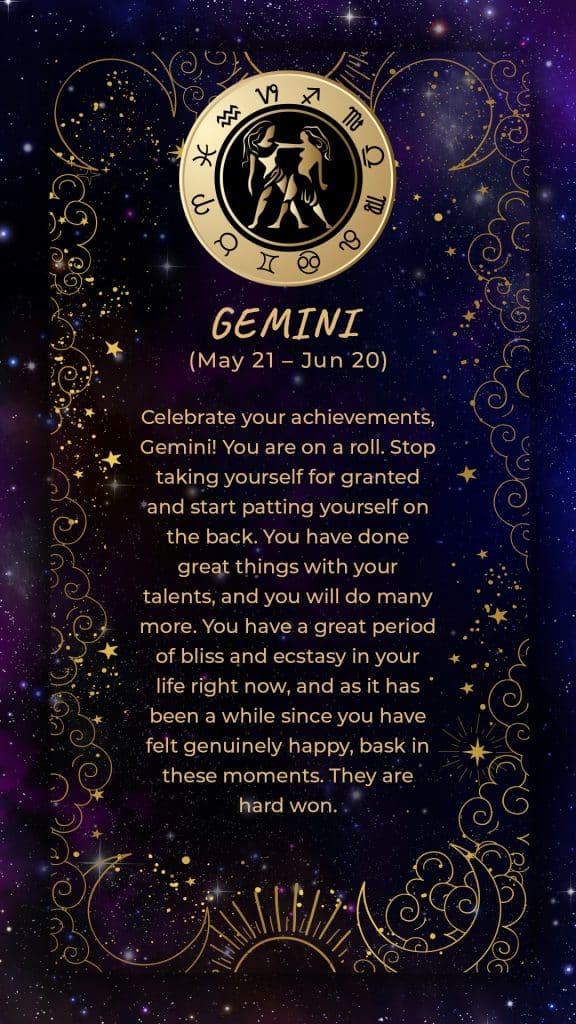 Cancer (June 21 – July 22)
You are not alone, Cancer. You have done an amazing job on your own, working and living independently. It is time to let others into your circle. One by one, people that really matter will come into your life to show you new things, new ways of thinking and being. Let them. Make friends, fall in love, or fall in love with your existing partner all over again. Look around and trust those closest to you. You can count on them.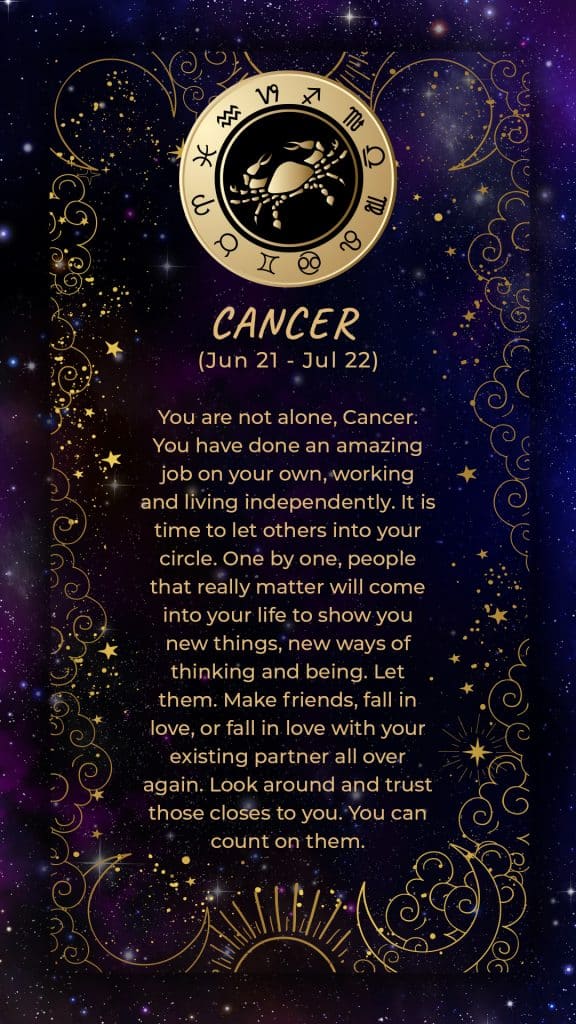 Leo (July 23 – August 22)
Leo, it is time to get your house in order. You have put it off for too long, and you know it. Work on all aspects of your life, one at a time, from your physical health to your mental health and even to your physical house. Get it all together, and watch your big bright future come shining through. You cannot only work on one aspect of your life as you have been and ignore the rest. It is time to grow. Do it in the most wholesome and holistic ways.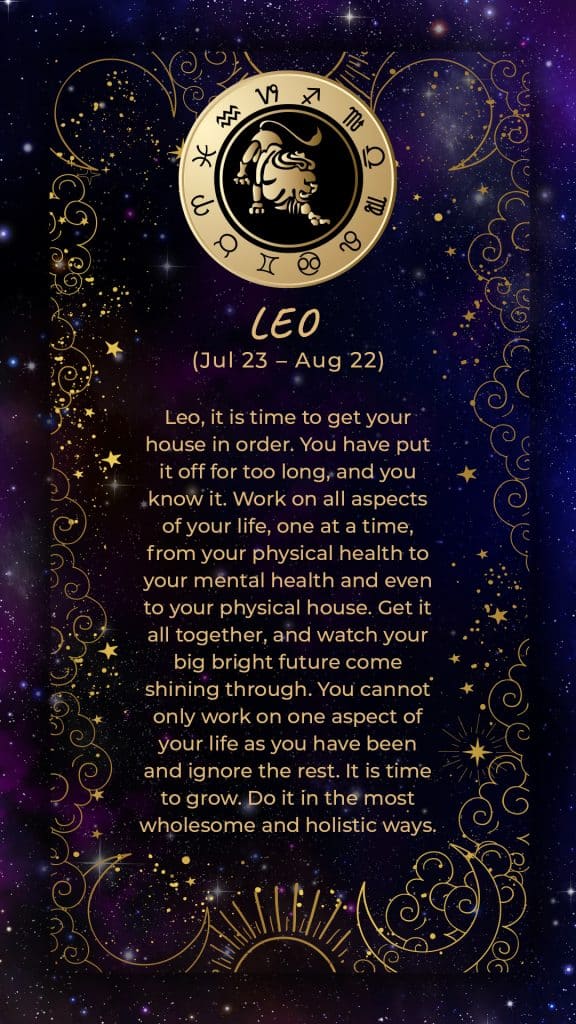 Astrology, all divination really, is a wonderful way to remain connected to the universe and communicate directly with the divine. Allow these messages to wash over you, to flow through you, and to encourage you. Take what works, discard what does not, and go forth in your most open-hearted, and most open-minded spaces. Relax. You've got this.
Happy manifesting!