October is the month of balance.
The sun transits the constellation of Libra between September 23 and October 23.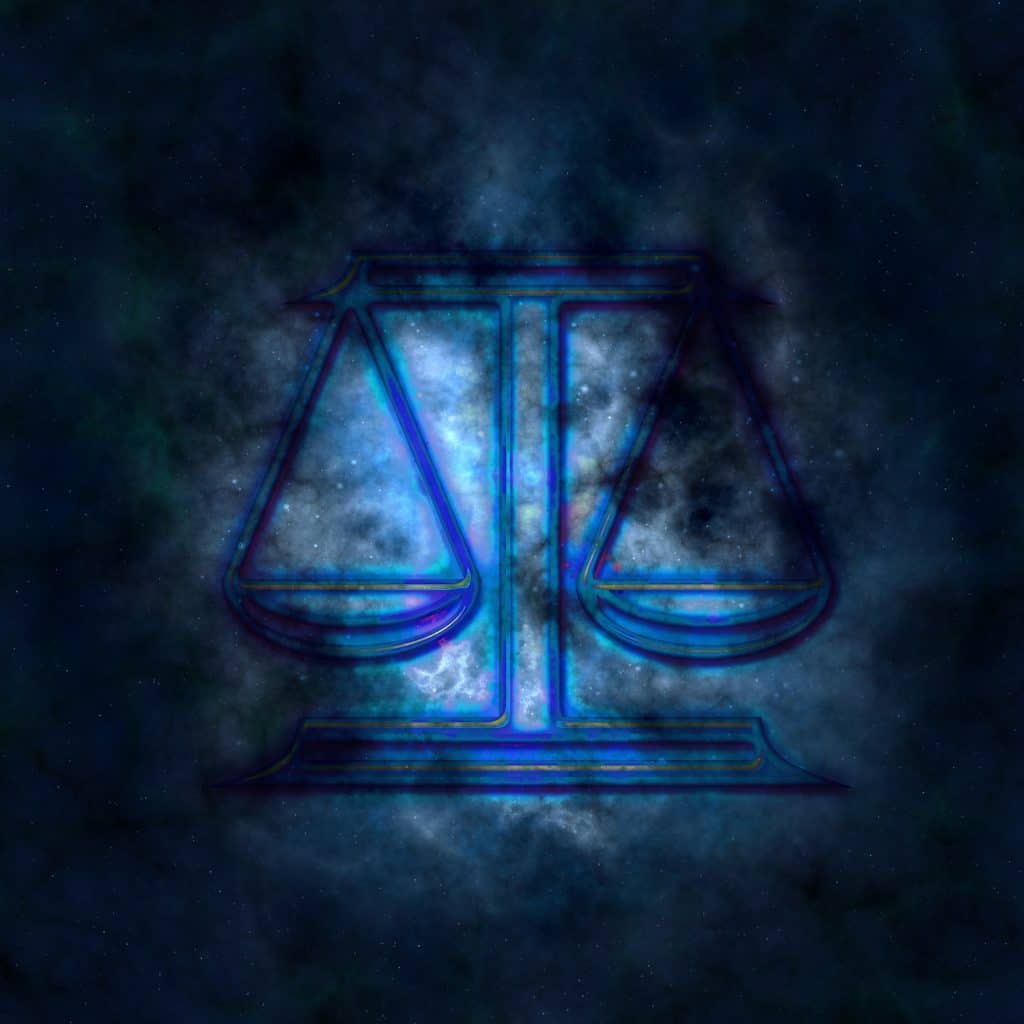 Keep in mind that September 23 also marks the autumnal equinox, so we begin this month firmly in the season of reaping what we have sown, gathering our last harvests, and preparing for the stark, freezing, stillness of winter.
This is your time to begin putting your house in order and preparing for the resting period of the dark season.
Understanding astrology as a small part of a larger whole, living a cyclical life, dedicating yourself to ebbing and flowing with the seasons and the elements opens you up to a new way of enlightened living. So take these horoscopes as they are intended, as new and transformative ways of thinking, feeling, and being.
Also be aware that any horoscope, reading, or messaging that is rooted in fear and negativity is not coming from the divine.
The divine, the universe, does not speak in negatives.
The universe only operates from a place of yes.
This horoscope for October is necessarily broad and general and speaks to what is happening in the grand cycles of the universe as they relate to your overarching birth sign. Take it lightly and gently and respond from a place of openness and love.
October 2022
In the northern hemisphere, October is the month of Libra, which represents balance in all things. Libra is the only astrological sign represented by an object, the set of scales, rather than an animal or mythical figure.
The scales are often held by a woman when representing Libra, the Greek goddess Themis, or the Roman goddess Justitia.
The concept of Lady Justice dates back at least as far as Ancient Egypt and speaks to universal karmic law, justice and balance in all things.
In Judeo Christianity, we think of this period of the year as "putting your house in order."
Pay your debts, settle your accounts, and head into winter with a clean and clear conscience.
This is our first full month of the autumn season, so spend these last several weeks outdoors when you can, taking in the light, steadying yourself in the crisp air and brisk breezes. Revel in the changing of colors and the evidence all around that life is eternal and death is nothing permanent.
Mercury goes Direct – October 2
Moving forward for the second time in Virgo, allow your projects to come to a close with prosperity and finality.
Full Moon in Aries – October 9
Reflect on how far you've come, on what you've accomplished, and on who you have become so far this year. Push past your limitations with confidence and the full faith of the universe.
Saturn goes Direct in Aquarius – October 22
Aquarius is deeply feminine energy. Allow yourself to give in to the creative chaos that you have created space for by building the solid structure and stability you have in place. Open up in new and creative ways.
Sun enters Scorpio – October 23
Allow things to get dark and mysterious as they enter Scorpio. A follow up to Saturn in Aquarius, let yourself revel in the unknown and indeed the unknowability of the divine.
New Moon and Solar Eclipse in Scorpio – October 25
With a solar eclipse in vengeful Scorpio, it is time to put an end to old grudges, blood feuds, and buried anger. Learn to let go and move forward into the coming light.
October 2022 Horoscope by Zodiac Sign
Libra (September 23 – October 22)
You will realize the importance of relationships this month. You cannot and should not do it all alone. You are not alone. Work to strengthen your existing relationships and learn to collaborate and cooperate. The universe is always communicating with you and guiding you, and quite often you will get that guidance in the form of other people in your life. Remain open and receptive to it.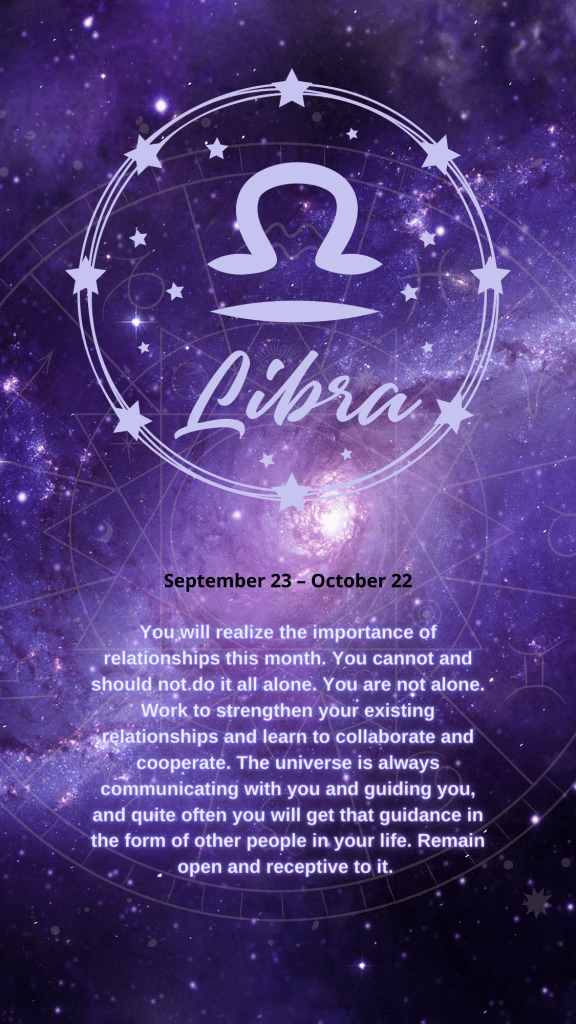 Scorpio (October 23 – November 21)
Be open to change this month. The sun comes firmly into your sign toward the end of October, and it is a message to you this year that change is inevitable, and you will be at your best and most powerful when you learn to adapt and shift with life rather than resisting and fighting it. You cannot change the world. But you can change yourself. Many positive changes are coming your way, and they may often come disguised as things or events that make you uncomfortable. Embrace the uncomfortable and watch your world open up.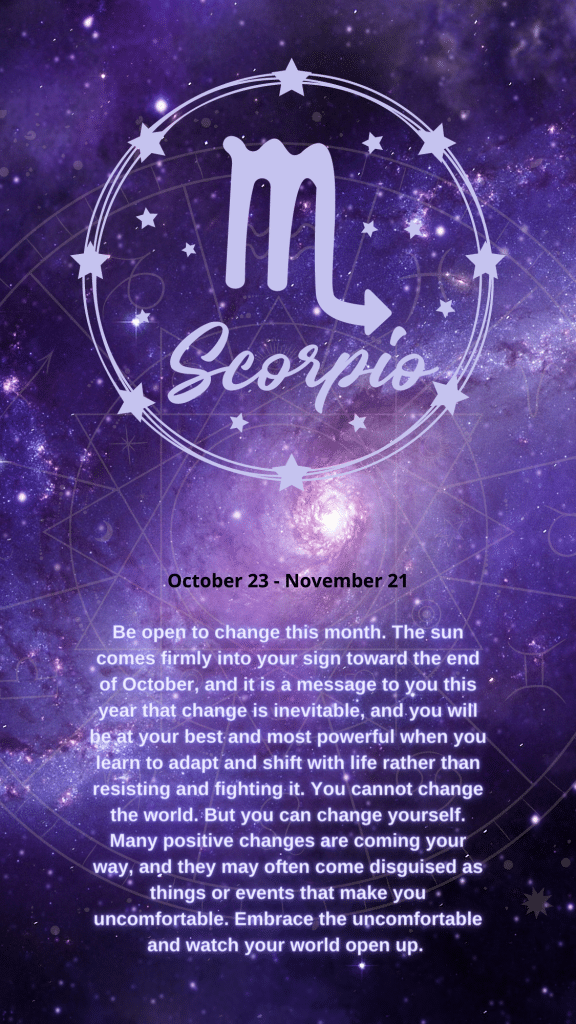 Sagittarius (November 22 – December 21)
See all the challenges in your life as problems that come with gifts. No problem comes to you without a gift for you in its hands. This is your opportunity to shine and show what you are made of, the same stuff as stars. The only true failure can come if you quit. Do not give up on yourself. You will be forged in the fire ahead. Look around you. You are surrounded by people who love you unconditionally and will never give up on you. Now give that gift to yourself as well.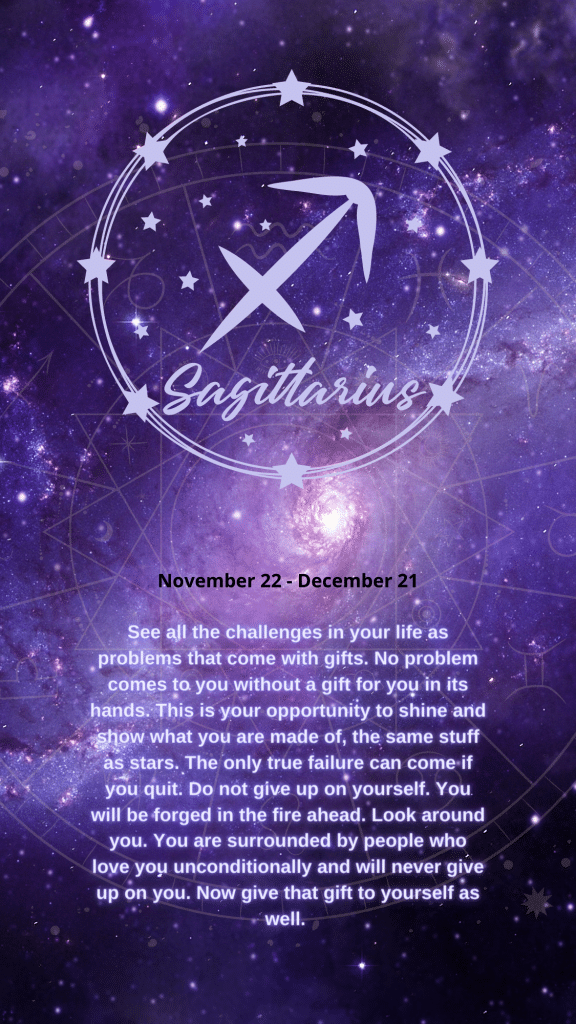 Capricorn (December 22 – January 19)
October is a time for unbridled happiness for you, Capricorn. You have achieved balance in your life after a long time of working for it. Keep your balance in place and your life on track, refusing to go backward or backslide into old habits and patterns. Still, if you do slide a bit, forgive yourself and step back into alignment. You have a period of great peace and abundance in store. Do not listen to anyone who tells you you cannot do it.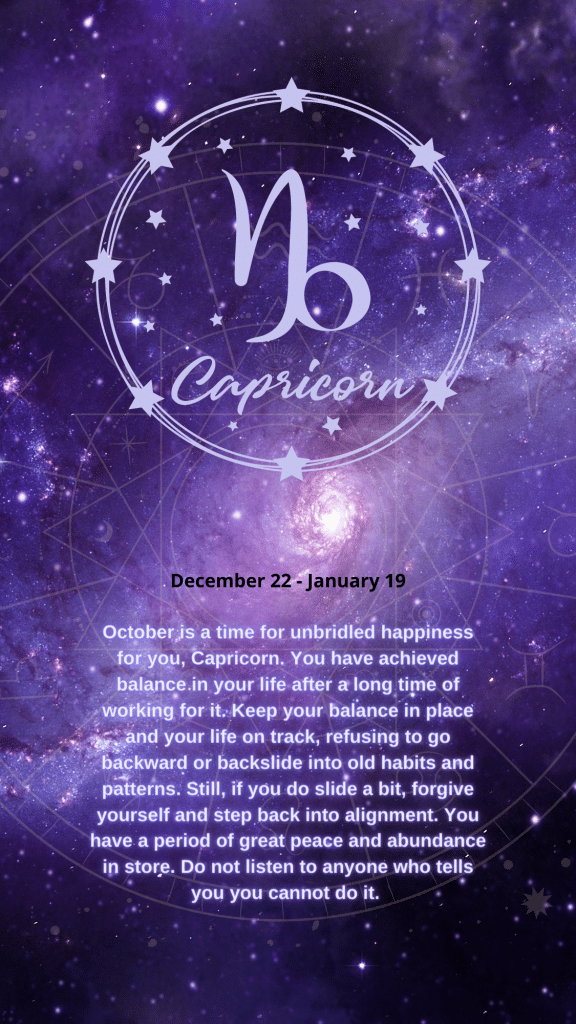 Aquarius (January 20 – February 18)
Great opportunities are coming your way this month, Aquarius, and you need to be ready to embrace them. Turn every single thing that happens this month to your advantage because that is your superpower. Believe in yourself and your natural abilities and you will be like King Midas, turning everything to gold, except that you will be able to control that power. Be open and honest with yourself, and you cannot fail.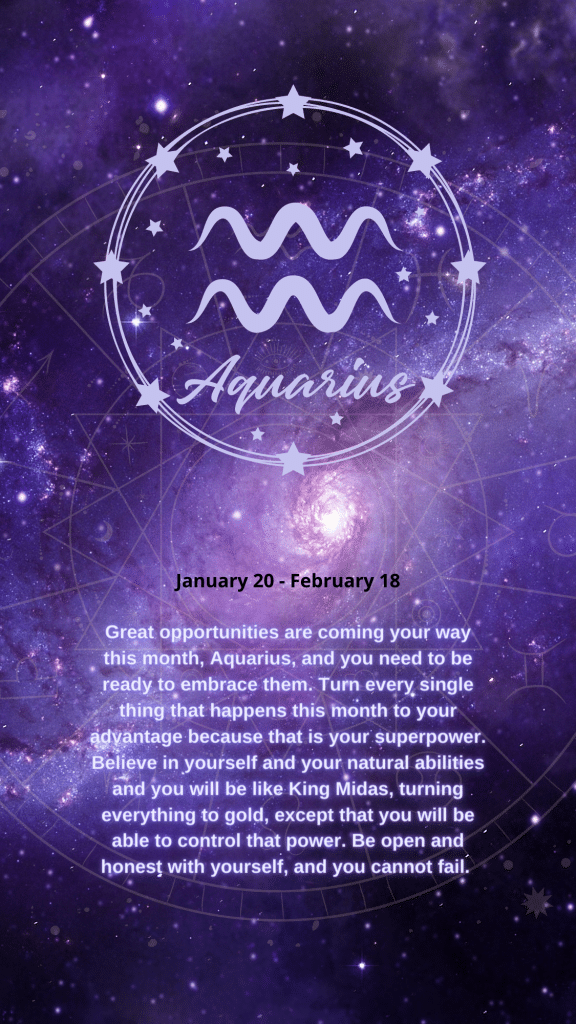 Pisces (February 19 – March 20)
Do not take your life and all you have for granted this month, Pisces, because everything you have is everything you need to get everything you want. Success is on the very near horizon for you, so appreciate how far you have come, how hard you have worked, and you will achieve all your heart's desires. Keep your dreams in the forefront of your mind and continue to aim at them single mindedly and with great love in your heart.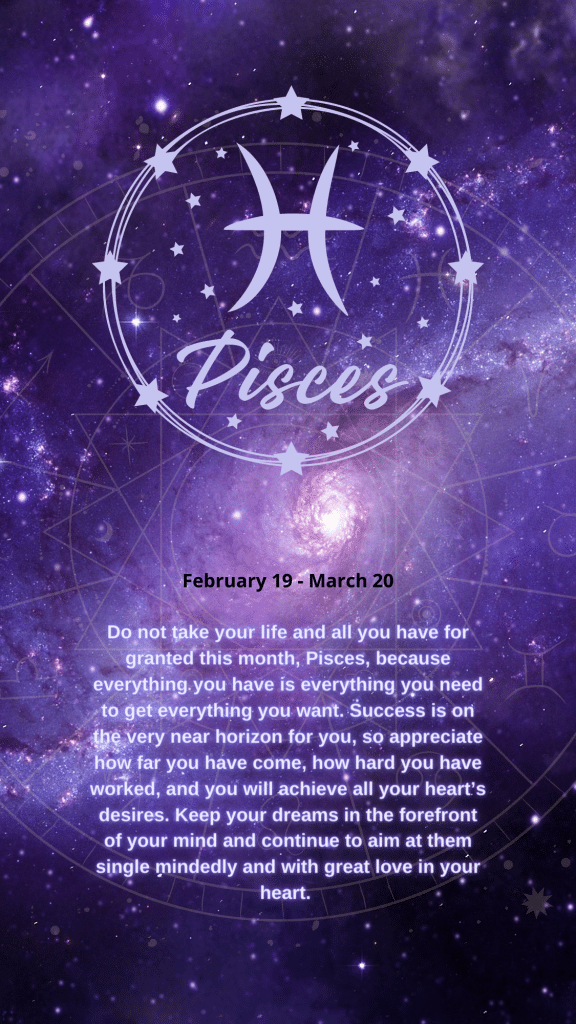 Aries (March 21 – April 19)
It is time to learn to live a positive life, Aries, and stop battling, fighting, and resisting. You will achieve far more from a place of love and flow than you ever could from a place of incessant work and pressure. Work instead from a place of pleasure. Rid yourself of negative energies through sage and crystal rituals, deep cleansing baths, and meditations, and step into a lighter, softer space. Look to those positive influences around you and take their lead. Life will get so much easier so much more quickly when you flip your energy from negative to positive.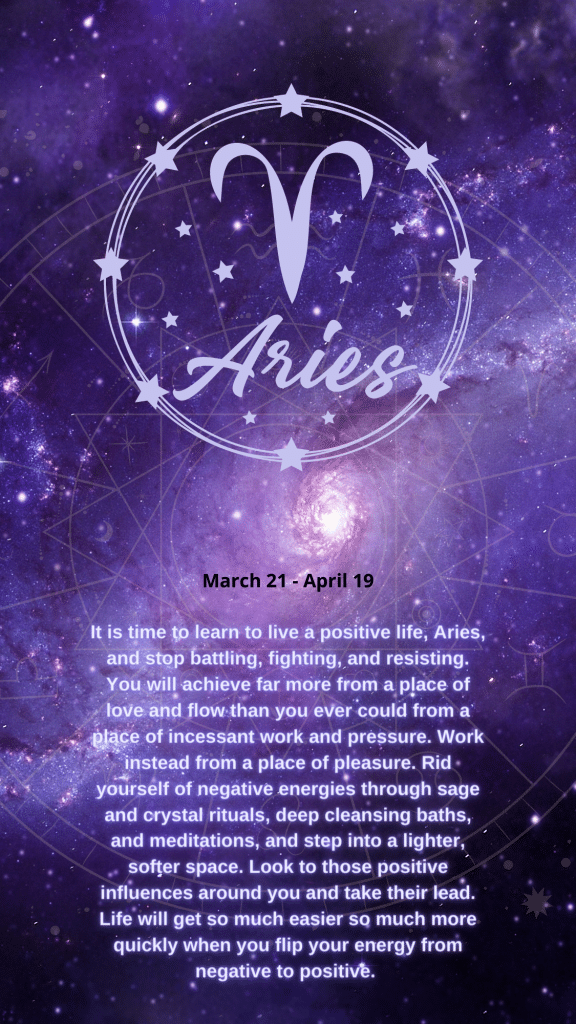 Taurus (April 20 – May 20)
It is time to sit with yourself, Taurus, and decide what you really want out of life. You have been drifting in vagueness for far too long, and it is time to get narrow and specific. The danger of believing, and living life as if, you can be anything, is that you end up nothing. Make a choice, and work towards it, believing deeply that you can achieve anything you set your mind to. The trick is to set your mind. Once you do that, listen to your heart and move forward, pure positivity will flow into and through you, guiding you all the way.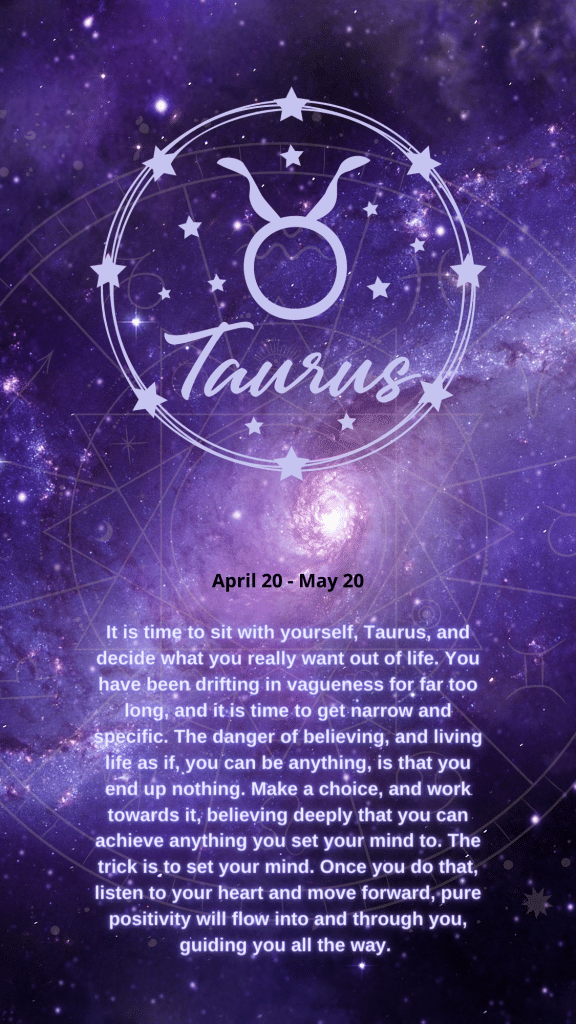 Gemini (May 21 – June 20)
You may begin this month feeling down, dampened, and dark, Gemini. That is okay. More than okay, it is good. For how can you know what you do want if you don't know what you don't want? Allow yourself to feel your feelings – anger, hurt, sadness – let them wash you clean, and move into what comes next. Remain confident and strong, trusting that the universe has your back and is always carrying you gently through life and toward abundance. Meditate, be still, and listen for the guidance into the light. You will emerge even more strong and powerful.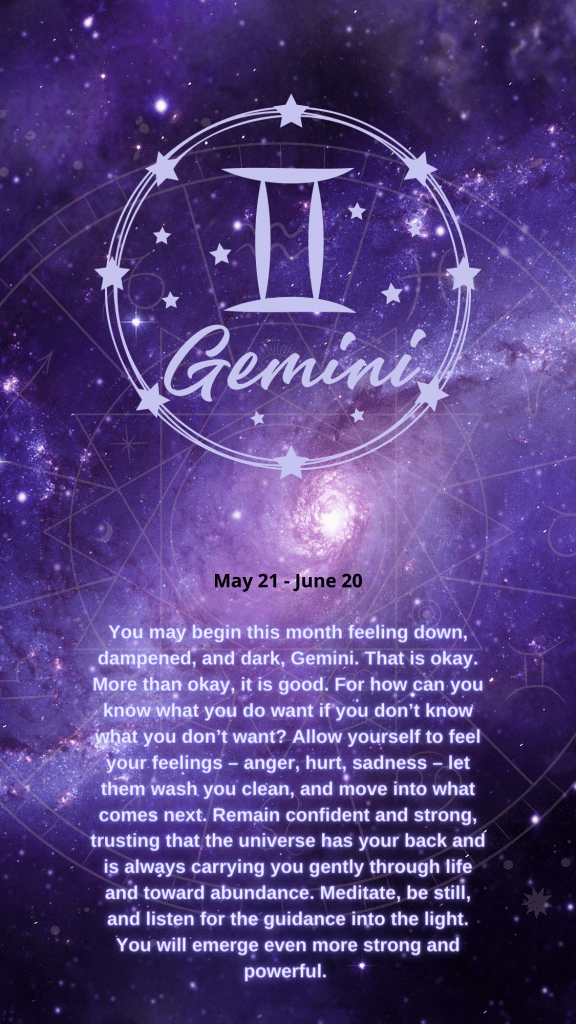 Cancer (June 21 – July 22)
Baby steps, Cancer. Take life one step at a time this month, easing into the unknown and trusting that the next step will appear as you lift your foot to take it. There is nothing to fear from the universe, and only great love for you there. Do not rush or act out of desperation or you will only delay your success and joy. Patience is a virtue to adopt into your life now as you have wonderful things in store for you, if you will only let them come. Life your own life and do not compare yourself to others.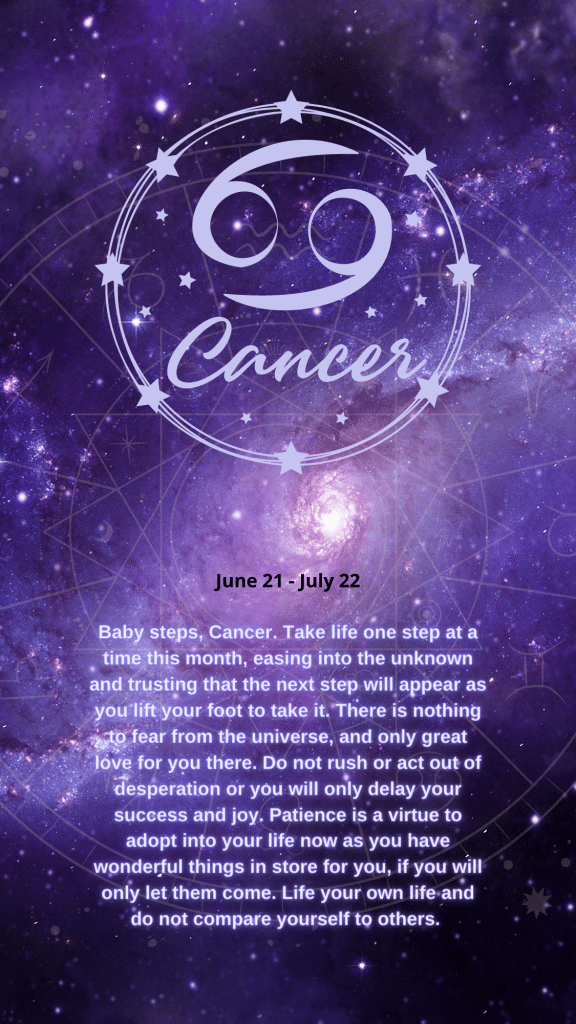 Leo (July 23 – August 22)
Leo, October is a month of great self-love for you. Take a solo trip, retreat inward, take long hot baths, immerse yourself in an essential oils and meditative practice, journal, and indulge in the luxuries of life you love most. Do not settle for less as you are worthy of great love. Put your self love and self-care first always, and you will not have to worry about others taking advantage of or hurting you. Set boundaries and take a stand. You are the universe, and as such are unstoppable.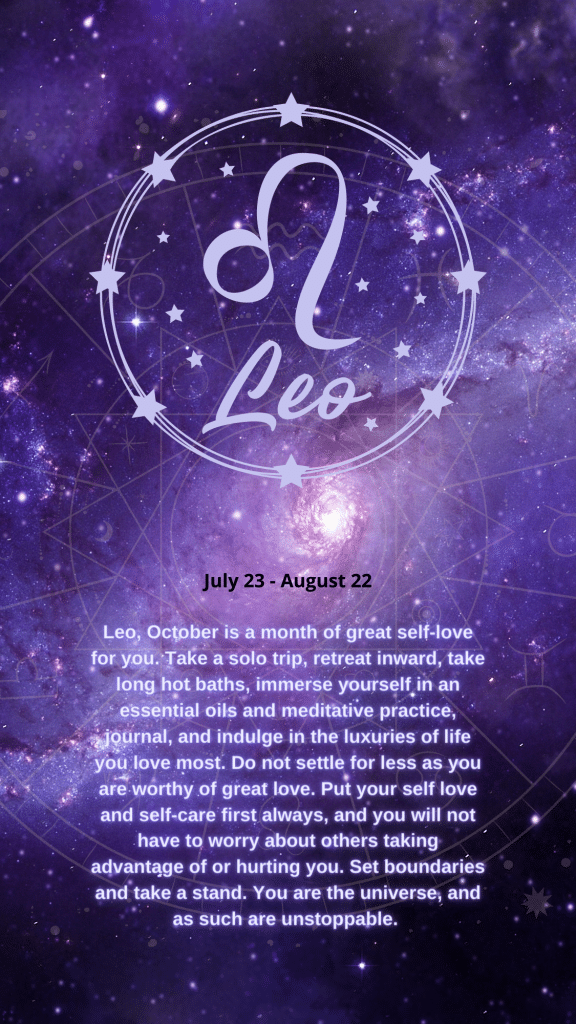 Virgo (August 23 – September 22)
Virgo has challenges to face in order to appreciate all you have in life. You have manifested great beauty and sheer love in so many ways, and you have allowed yourself to become complacent in it all. That is okay, and it is normal, but now you will have to come to terms with your lackadaisical attitude in order to uplevel and manifest even more. Take the bad with the good, shake it off, and prepare for even more amazing gifts to present themselves. Remember that this is all part of the human experience.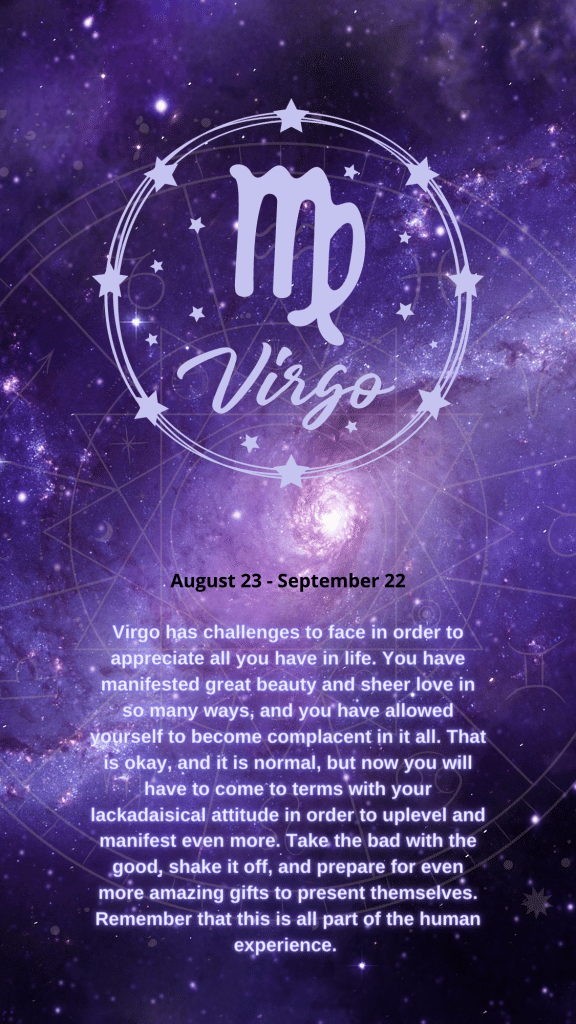 Keep in mind that and of these messages could apply to any of us at any time. It is, after all, about timing. You are not being singled out, rewarded, or punished, by the universe. That's not how any of this works. You are on a journey through life as a human, prone to all the failures and successes of human life. Take it all lightly, gently, and with an open heart and mind, and you will see just how spectacular life can be.
Happy manifesting!