The beginning of August marks the start of the harvest. Known as Lammas or Lughnasad, it signifies the beginning of harvest and abundance. August is a month to enjoy the blessings given to us by heaven and earth– by the universe. Above all else, August is a call for us to be thankful for our blessings, amidst all that is to come.
There is a lot to celebrate this month, which also implies a spike in activity, even for the most sedentary folks. The ability to balance energies will be challenged this season, but despite this, astrology dictates that all signs are generally seen to be at the peak of their game during the month of August.
Astrology is meant to guide people through transitions in energy such as this, and while it is representative of the knowledge of the stars and its alignments, at the end of the day, astrology looks to value the most important gift you have: your free will.
The readings below are general and might not be completely for you, so take what resonates, and choose what you should do with this cosmic knowledge. The stars are mere observers and guides, but ultimately: your fate is in your hands. With this mindset, let's make August a good one!
August 2022
Lammas falls halfway between the Summer Solstice (Litha) and the Fall Equinox (Mabon). It is a celebration of harvest, usually sparked by the collection of grain from the fields and baking the first loaves of bread for the season. It is a celebration of abundance, held together by rituals of harvest and decoration (using fruits and other crops). With August we all remember that the earth has provided us with many great things, and will continue to provide for us as we continue to care for it.
Mercury enters Virgo – August 4
Now is the perfect time to get things going! Perfectionism will keep your plans and activities up, in their highest quality– but try not to lose yourself in it.
Venus enters Leo – August 11
A lot of charm and comfort abound. Make sure to bask in all of it.
Full Moon in Aquarius – August 11
Expression, collaboration, and reaching a deeper understanding are highlighted this full moon.
Mars enters Gemini – August 20
Words are more persuasive and actionable. Manifest by speaking or writing, and say what you mean.
Sun enters Virgo – August 22
Practicality will take center stage! Virgo season is quite near as well– a proper welcome.
Uranus Retrograde – August 24
Uranus retrograde makes for positive changes, particularly: boosts in confidence.
Mercury enters Libra – August 25
Truth is the theme for this encounter– don't just expect to speak some hard-to-swallow truths but to hear some as well.
New Moon in Virgo – August 27
A new appreciation for routines. Starting a new habit will be a breeze today.
August 2022 Horoscope by Zodiac Sign
Aries (March 21 – April 19)
New ideas abound, my lovely Arians! It seems as though you're in a very creative mood, one that might even be pushing you to communicate with the kinds of people you don't normally interact with.
This August, you'll be focused on working on some of these ideas and forging them into long term projects and efforts. Arians, as you take on more responsibilities for your new endeavors, you are urged to focus on the present and also the future. The past will only distract you– remember that.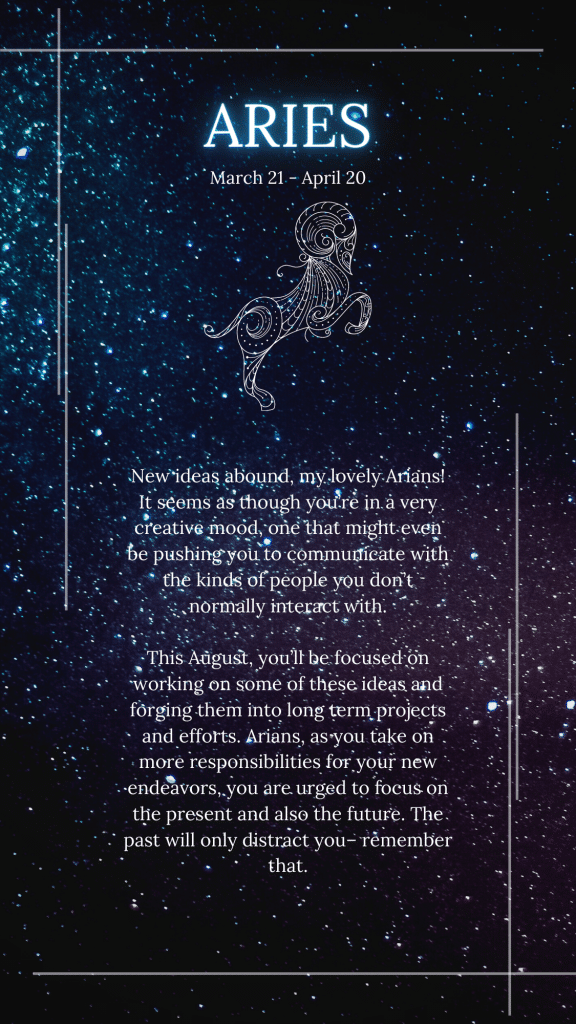 Taurus (April 20 – May 20)
A few obstacles lie between you and your goals, dear Taureans. Your efforts are acknowledged by the divine, which is why this August, you will be given a clearer mind to navigate through your situation better. Who knows? You might find a new approach to this issue, or you might even find a new goal altogether.
Although August may provide you clarity, this month, you are also urged to be playful and to channel your inner child. Perhaps you've been a bit too rigid that it has thrown you off balance? Though it seems counterproductive, embracing your fun selves will definitely help induce this clarity you will need to reach your destination.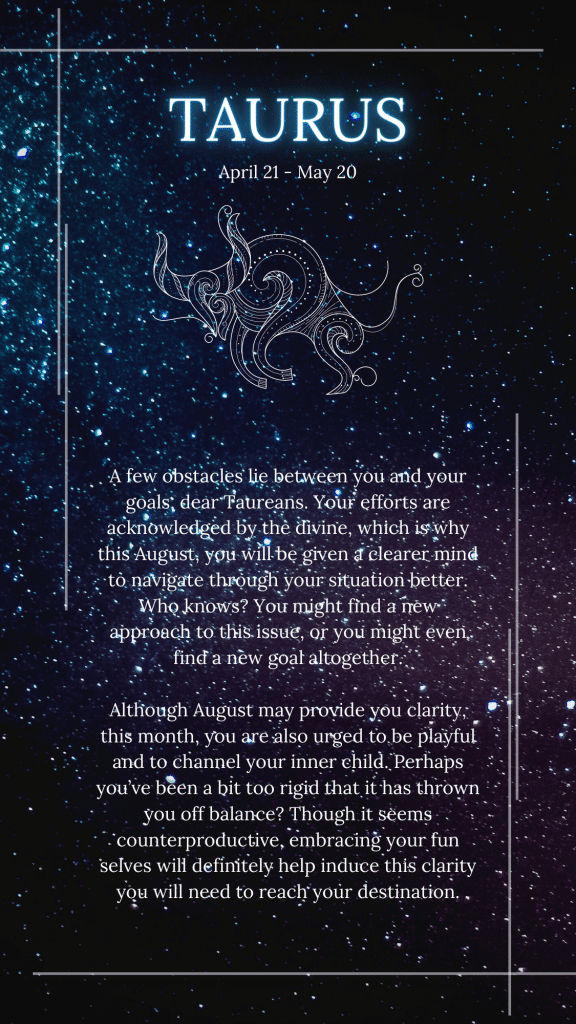 Gemini (May 21 – June 20)
Gemini natives have been filled to the brim with inspiration as of late, even going as far as pushing productivity to new heights. The trouble, however, lies in tasks that require teamwork or any form of cooperation. This August, your inclination to spend more time alone or to work on projects alone might be detrimental to your growth and potential in either your learning or in your career. This time around, there is more to be gained with collaboration– even if it's with just one person. Pick a teammate or friend you can trust, share your workload (or maybe even just share your troubles), and watch it all fall into place beautifully.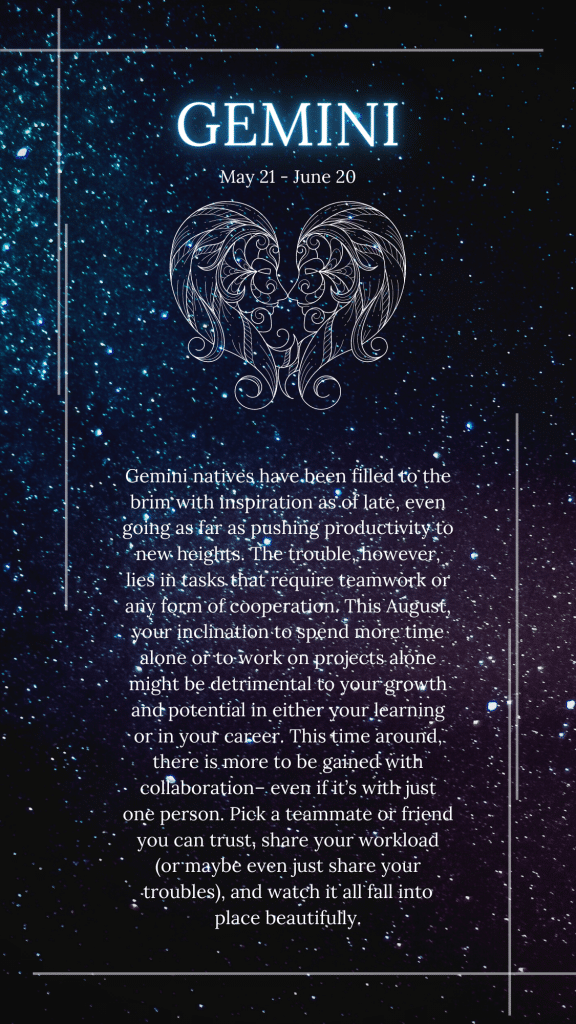 Cancer (June 21 – July 22)
You've just finished celebrating something, my dear Cancer crabs! Cancer season might have ended a month ago, but feelings of elation seem to endure even now. These happy feelings might be reaching their peak this August, and some of you might experience an overflowing sense of self-confidence.
Be wary, as you risk letting too much confidence get into your heads. Celebrate and be merry, but keep your ego in check. A sign to take a step back can be found in a burst of aggression or in taking someone for granted.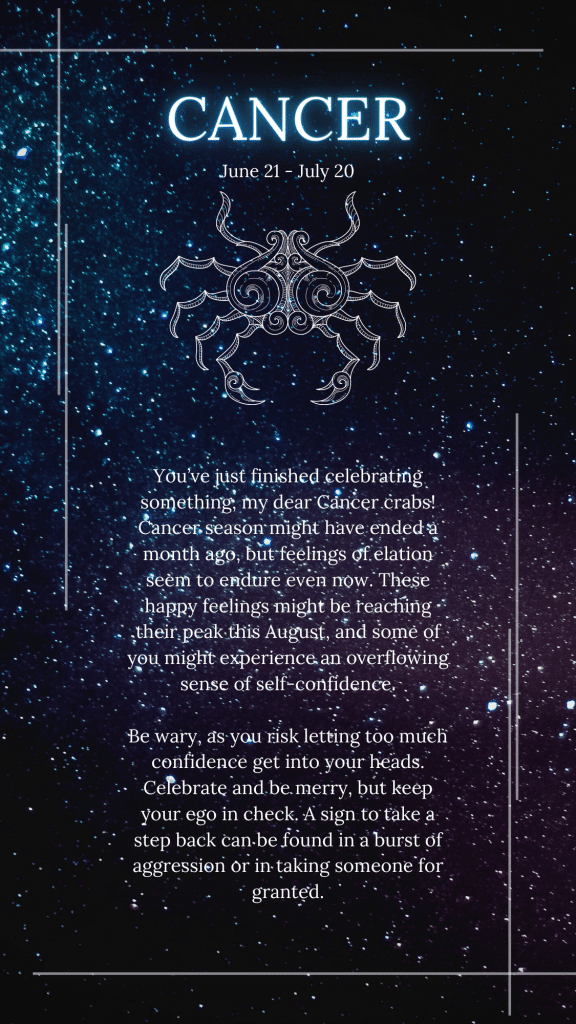 Leo (July 23 – August 22)
Happy Leo season to the lions of the zodiac! A lot of you seem busy with something that you might not even remember that it's your season! Whatever these things may be, do know that you could be bound for travel very soon– even if it's just nearby! Movement will help you think more about your future. The divine senses a fear within you concerning how your life might look five to ten years down the line, but in response, it channels the words, "Worry not. You are strong. You've been strong all along." Now is the month and the year to face your fears, Leo. Your goals are within your reach.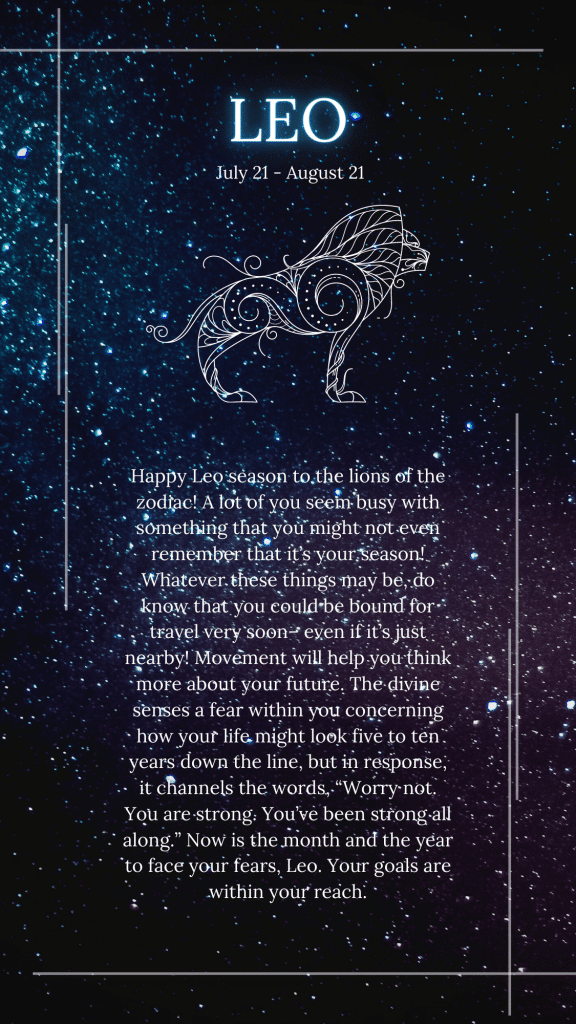 Virgo (August 23 – September 22)
There is a lot of masculine energy within you in the present, Virgo. You have control, you have power– perhaps it's because Virgo season is almost here.
For the month of August, however, although you've been in peak stability for quite a while now, you might find yourself questioning if the path you're moving towards is truly what you want. For example, this might have been the career you wanted a long time ago, but do you feel the same way about it now despite achieving so much within its bounds? The universe can detect some secrets you've been hiding from yourself, but don't worry: August is going to be the beginning of a streak of self-honesty, opening the door to an elevated sense of self-love.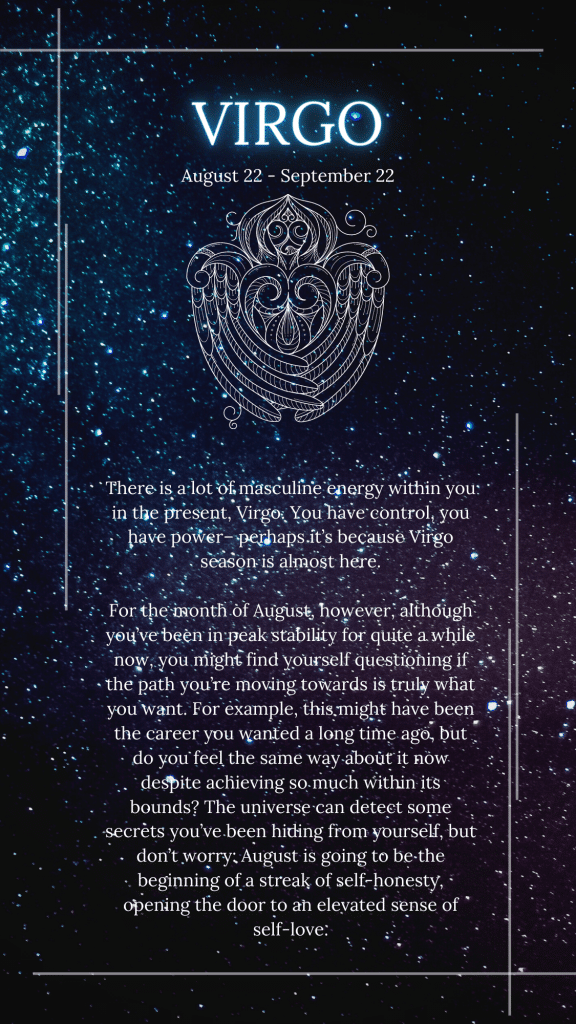 Libra (September 23 – October 22)
It seems like you Librans are stuck in a whirlwind of fast action! Your world is definitely buzzing with activity– you might even be meeting friend group after friend group recently! In fact, a lot of people have noticed your ability to bounce into action whenever you're needed, causing you to gain a lot of admiration– a lot of which might not be openly expressed, but do know that you are appreciated by a lot of your friends as of this moment.
This August signifies an abundance within many aspects of your life, and while that is so, the universe urges you to discipline yourself in areas you think you might tend to let yourself get lost in. With a little more discipline, you'll be able to see a drastic improvement with the way your life progresses.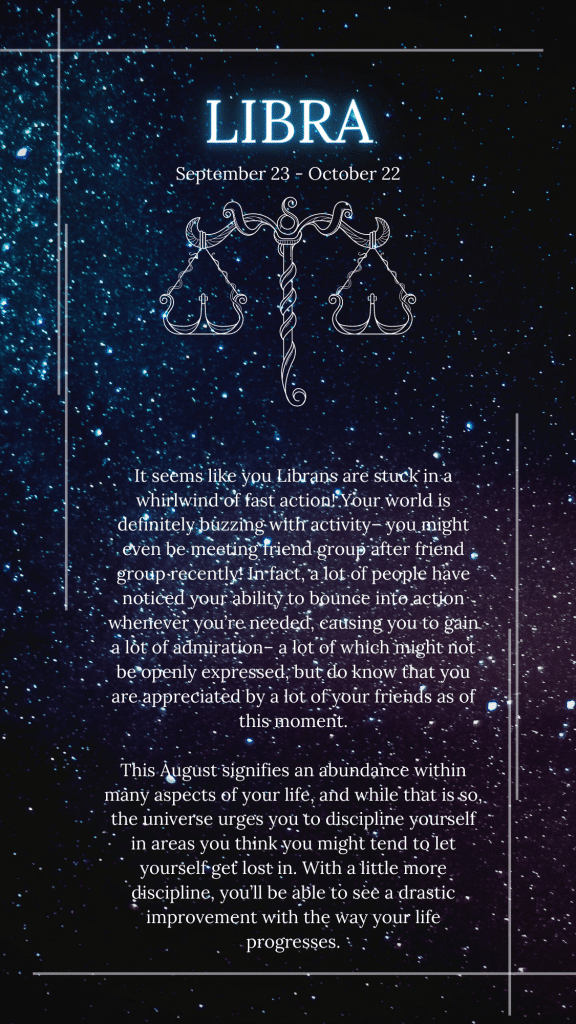 Scorpio (October 23 – November 21)
There is a recent release that can be sensed here, Scorpio. A lot of you are going through a huge transition period, perhaps within a friendship or relationship with someone. Whatever it is, there seems to be some relief on your end due to some release of heavy baggage, or due to finally being honest with the other party or with yourself.
This August, there will be a lot of opportunities for you to be venturing out into the world, either physically (via traveling), mentally (via studying worldly knowledge), or socially (via talking to people online from all over the world). These opportunities will lead you to plan a few months or even years ahead. As all these things are happening, the divine wants you to remember to practice self-love! It will be useful in all the future journeys you plot as of this moment.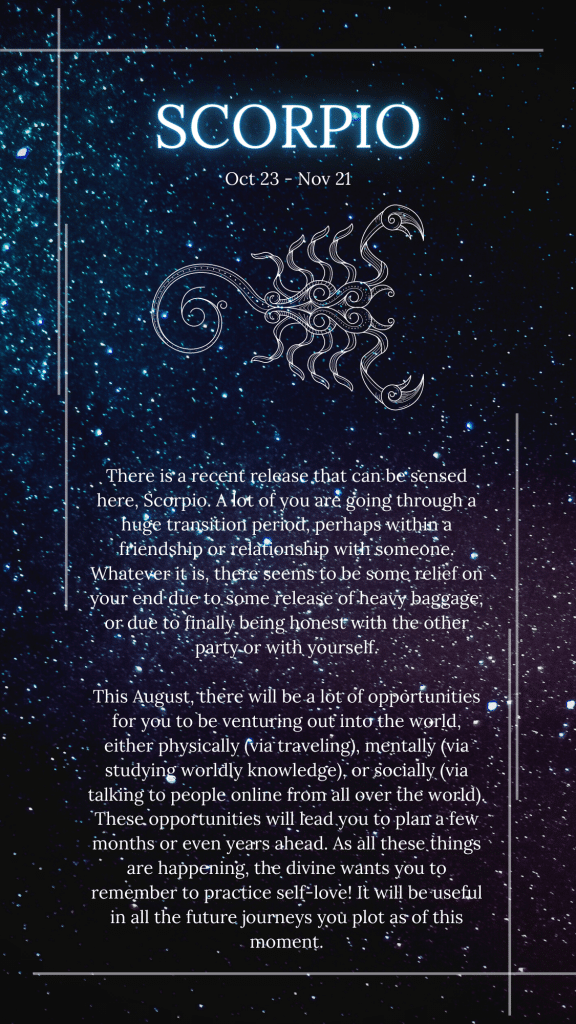 Sagittarius (November 22 – December 21)
Most of you are struggling with a transition of sorts, beloved Sagittarian! Perhaps you don't see your skills bring you anything fruitful, or perhaps you feel as though you're losing your focus. This August, your worry might be put on pause, as a lot of things will go your way. You will experience abundance and security this month. You might even gain a reward that you didn't expect. Keeping your mind free of your worries and changing your perspective about what you feel is negatively affecting your life will be key this month, as too much worry might blind you from seeing the blessings you are to receive. Cherish these gifts now– reserve your thinking for a day where your mind can think more clearly.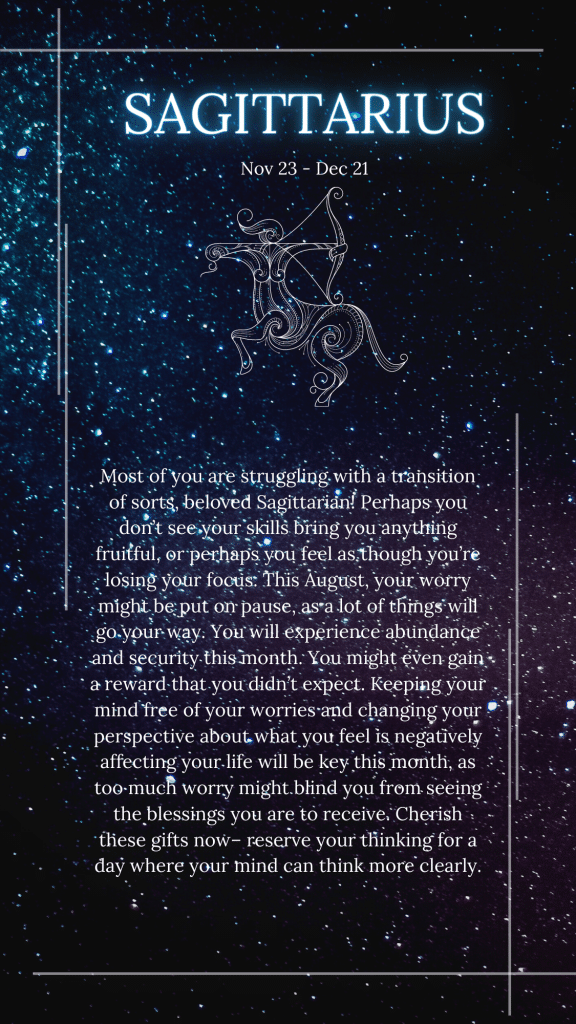 Capricorn (December 22 – January 19)
You've been spending a lot of time alone recently, Capricorn! Either that, or you've been keeping a lot to yourself. The month of August has you stepping into a powerful version of yourself, one that is disciplined in mind and in body. August seems to be the perfect time to push ideas into fruition, as a lot of signs point to you working hard and following all of your internal mechanisms and rules to achieve everything you set out to do. Capricorn natives are already hardworking on their own, but this month, there will be a lot of more energy and drive to persevere. Expect to exceed your own expectations.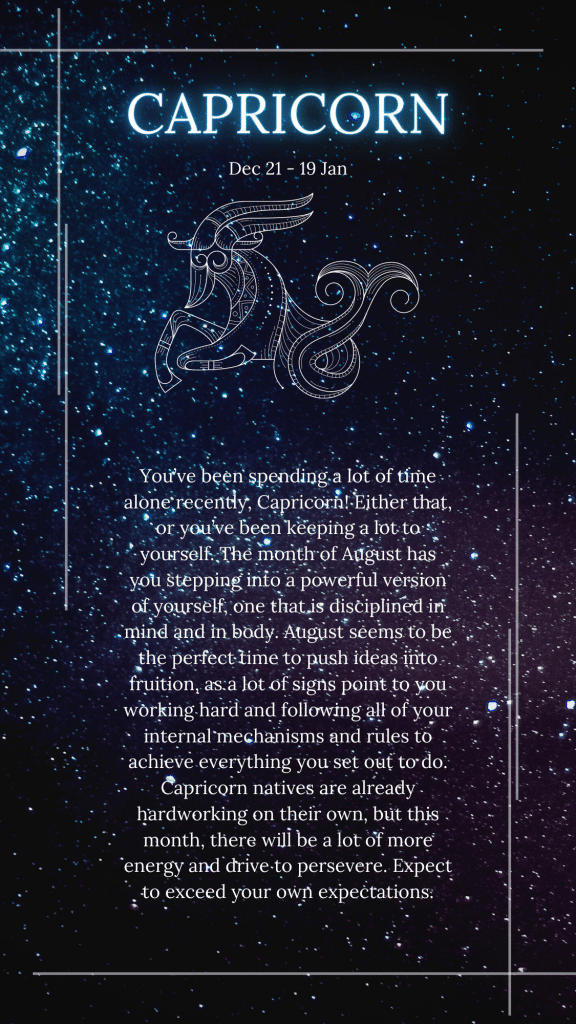 Aquarius (January 20 – February 18)
There is a lot of strange energy here, especially since Aquarians are naturally social creatures. This month and even in the months prior, there has been a need to be alone– to celebrate successes alone, and for the month of August: to worry alone. Precious Aquarians, you have stretched your solitude for far too long. Your social energies must be replenished! This August, you are called to loosen up and share your highs and lows with a few friends you trust. They will be more than happy to help. Surrender your control to the people you love, for now.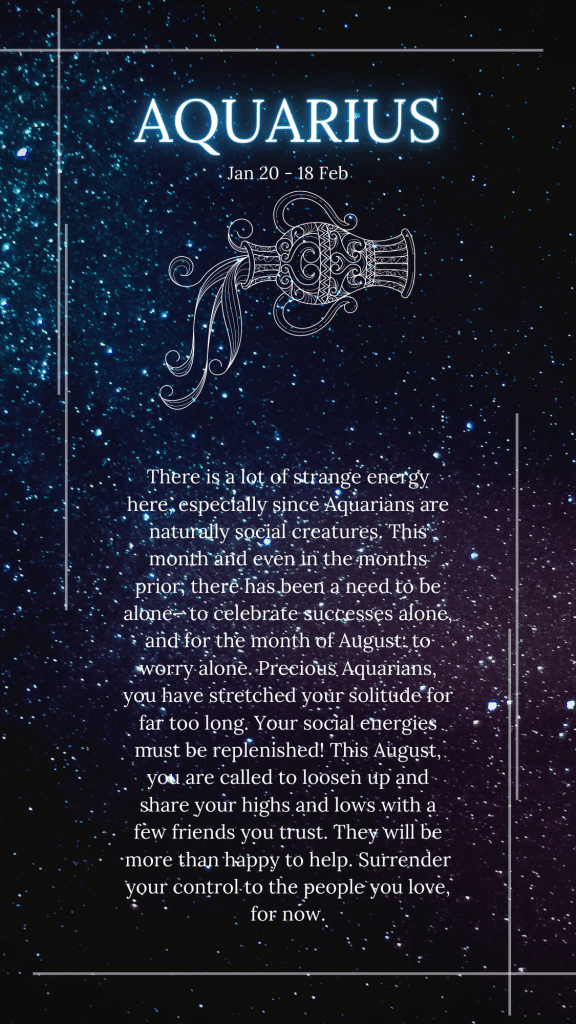 Pisces (February 19 – March 20)
There is something being hidden or kept secret here, Pisces. A private celebration, a hidden romance, or maybe you've witnessed something you shouldn't have. Either way, even if this hidden situation is only kept by you, it's most likely connected to someone you know, causing some sort of conflict in your thoughts.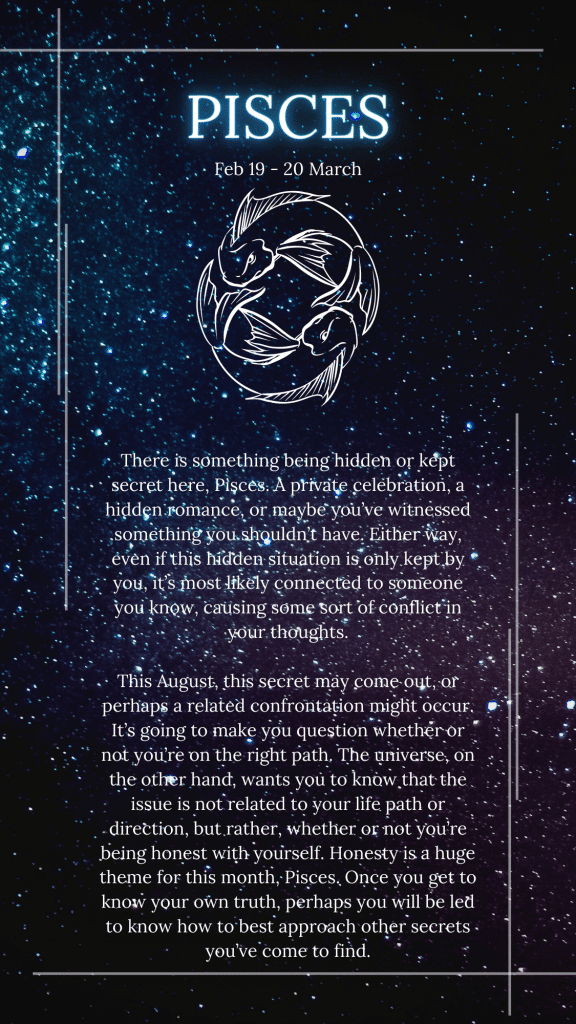 This August, this secret may come out, or perhaps a related confrontation might occur. It's going to make you question whether or not you're on the right path. The universe, on the other hand, wants you to know that the issue is not related to your life path or direction, but rather, whether or not you're being honest with yourself. Honesty is a huge theme for this month, Pisces. Once you get to know your own truth, perhaps you will be led to know how to best approach other secrets you've come to find.