We are now fully into the spring season, a returning of warmth, the sun, and light, a time of abundance, fertility, and planning.
When we look to the stars this month, we are seeking ways to align ourselves with these energies: where do we find abundance? What are we bringing to life? What plans can we make for the coming months?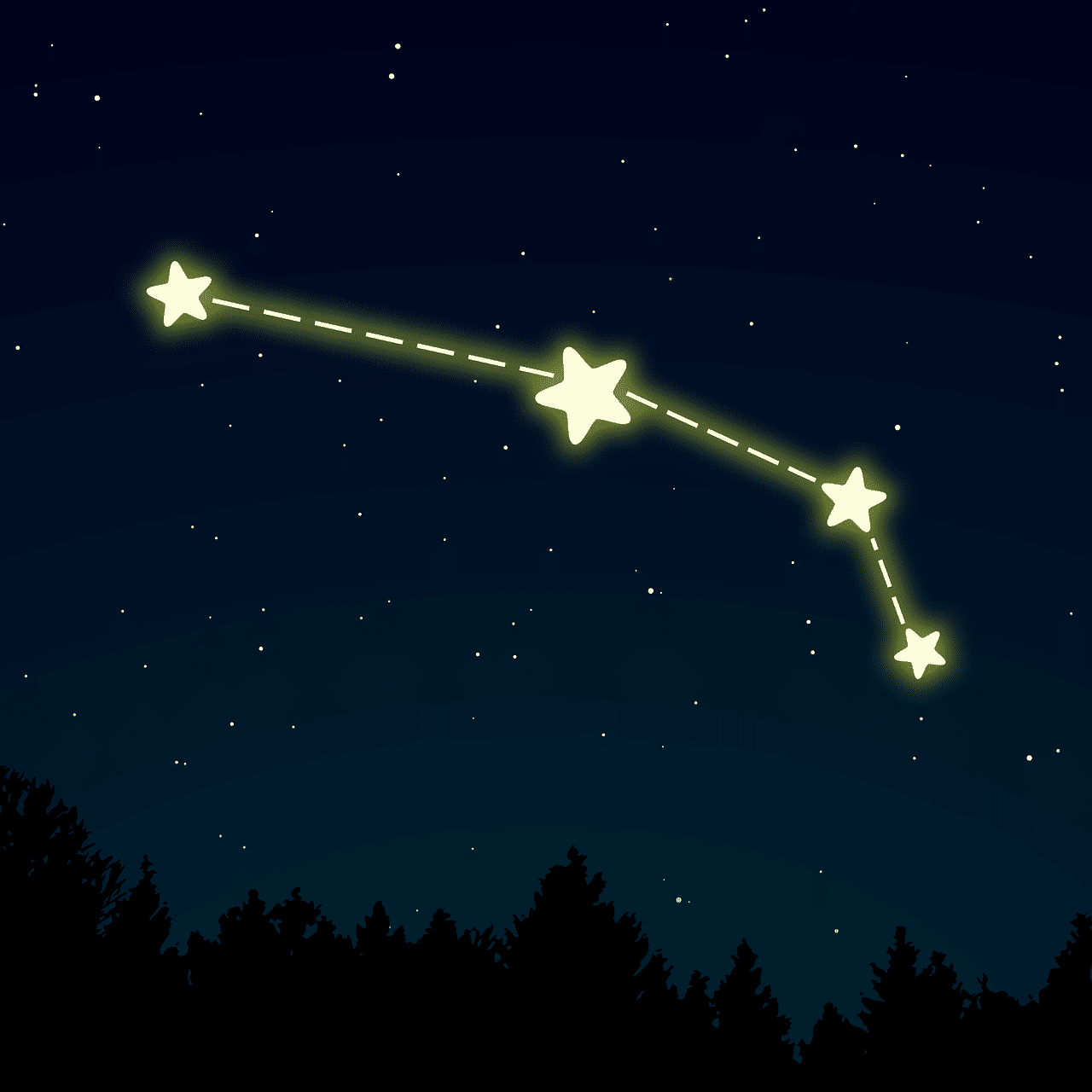 In witchcraft and spirituality both, we focus on energy, call it the energy of God or the universe, call it the energy of the earth, the moon, and the sun, along with the other planets. It is all the same.
Astrology helps center us on energy. It helps bring into stark relief where we are in our year and how we can best work with the energy of where we are now. This concept of using our energy to work with universal energy is at the heart of astrology and it has been for centuries, much like witchcraft.
Take what you learn here and use it to speak to your own intuition. Remember, if something you hear, learn, touch, or experience does not resonate with you, that is okay. Your destiny is in your hands, and there exist myriad interpretations of all spiritual communication, including the zodiac.
Also keep in mind that while your specific zodiac sign may say a lot about you, there are a number of other elements in your birth chart at play, such as the year you were born and the locations of the sun and planets on your moment of birth.
This horoscope is broad and general and designed to give you some insight into where your energetic centers may be for the month of April in 2022. Paying close attention to those energetic centers can help you decide when to spring into action, when to rest, and when to make plans.
Monthly Horoscope: April 2022
In the western world, April falls between two major sabbats, Ostara, the spring equinox, and May Day on May 1, also referred to as Beltane, the midway point between the spring equinox and the summer solstice. Beltane is typically celebrated with bonfires and cleansing, purifying, and fertility rituals, so April is a kind of gearing up for this heightened sensitivity to creativity and cultivation.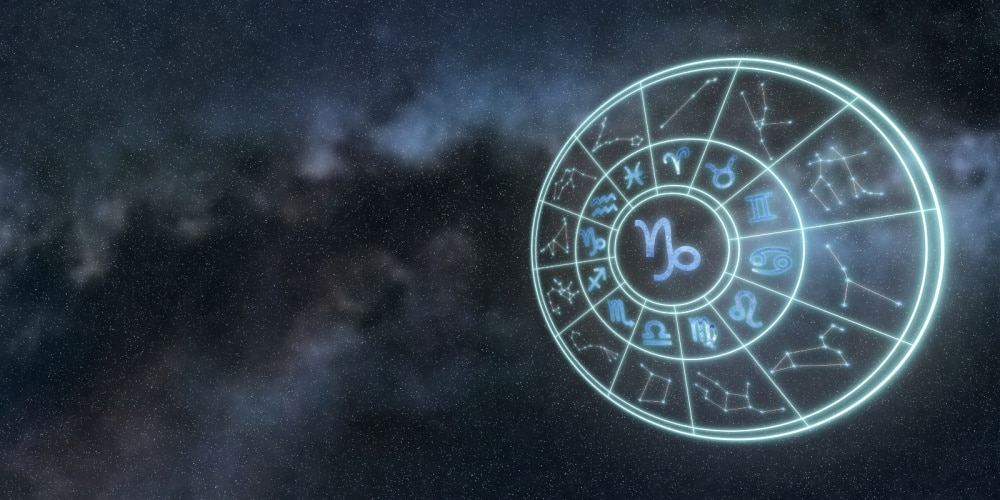 New Moon in Aries – April 1
Also referred to as a dark moon, the fact that the new moon falls on the first day of the month is a note to begin your month in reflection, in quiet, in solitude, and get ready to work for what you want.
Mercury enters Taurus – April 10
All the frantic energy comes to a calm. Allow yourself to slow down and think deliberately.
Mars enters Pisces – April 14
Open up to your spiritual goals. Allow your dreams and aims to become more complex as you help others meet their goals.
Full Moon in Libra – April 16
Libra is an air sign reflected by the scales. As you sit with this full moon, the wind moon, ask yourself how you have brought your life into balance. Have you taken time to breathe this month?
Sun in Aries and Pluto in Capricorn – April 18
Work on balancing ego and shadow with love and compassion. Your energy will be pulled at by others. Keep it under your own control.
Dark Moon and Solar Eclipse – April 30
More balance work here as the elements of earth, moon, and sun equalize. Take time for shadow work as the month closes out and you prepare for Beltane.
April 2022 Horoscope by Zodiac Sign
Aries (March 21 – April 19)
The stars are aligned for Aries this month. Feel your way through your star sign, channel your war energy into something productive and constructive. Pay attention to tension in your body as you grow beyond your current limitations. Abundance is at your fingertips, but you will have to let go, let go, let go of the need to control the outcomes.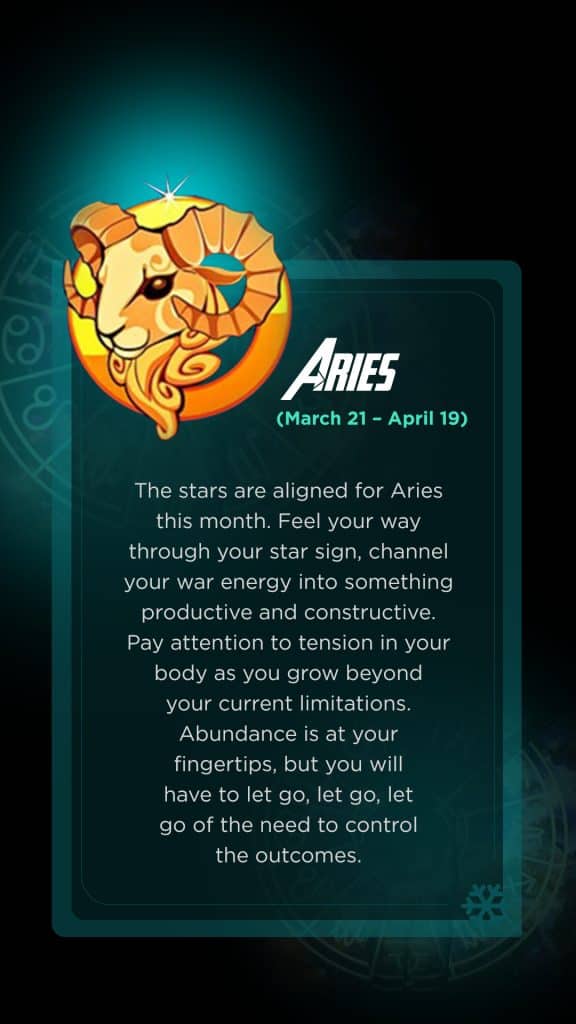 Taurus (April 20 – May 20)
Taurus will face challenges and tests this month. Your weather will feel grim and gray, even when the sun is out. See all of your roadblocks as opportunities for growth and learning. Remember, character is not built in ordinary circumstances but in extraordinary ones. You would not be challenged if you were not ready to face and overcome those obstacles. Rise up, Taurus. You've got this.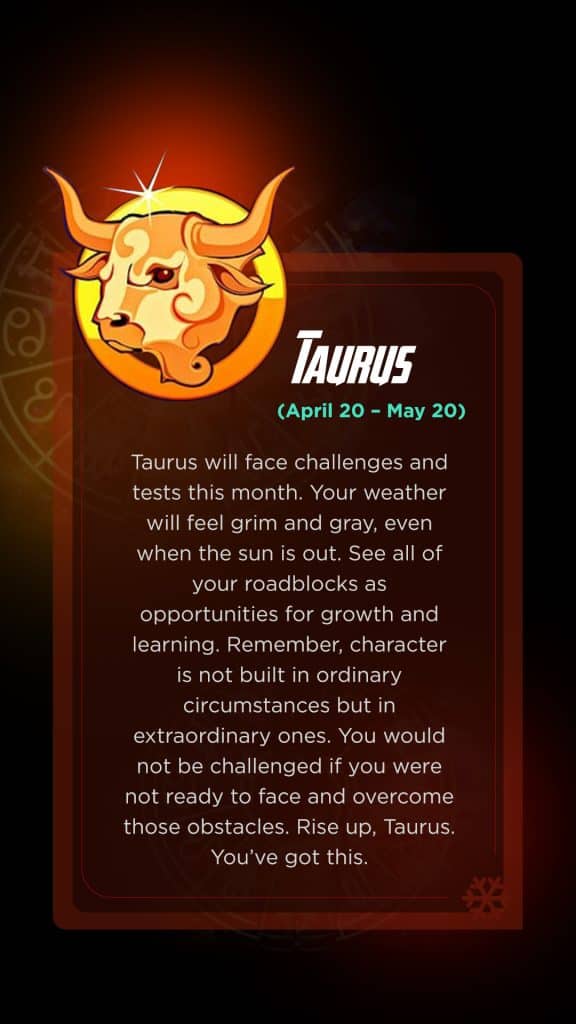 Gemini (May 21 – June 20)
Put some solid, positive practices into your life. Try a new lifestyle habit – get 8 hours of sleep, cut sugar or alcohol, eliminate toxic friends – and watch them make tremendous positive changes in your well-being. It may be hard at first, but this month is your time to remember to love yourself first, care for yourself first, and that you cannot serve from an empty vessel. Be true to yourself, and you can only help yourself and others by default.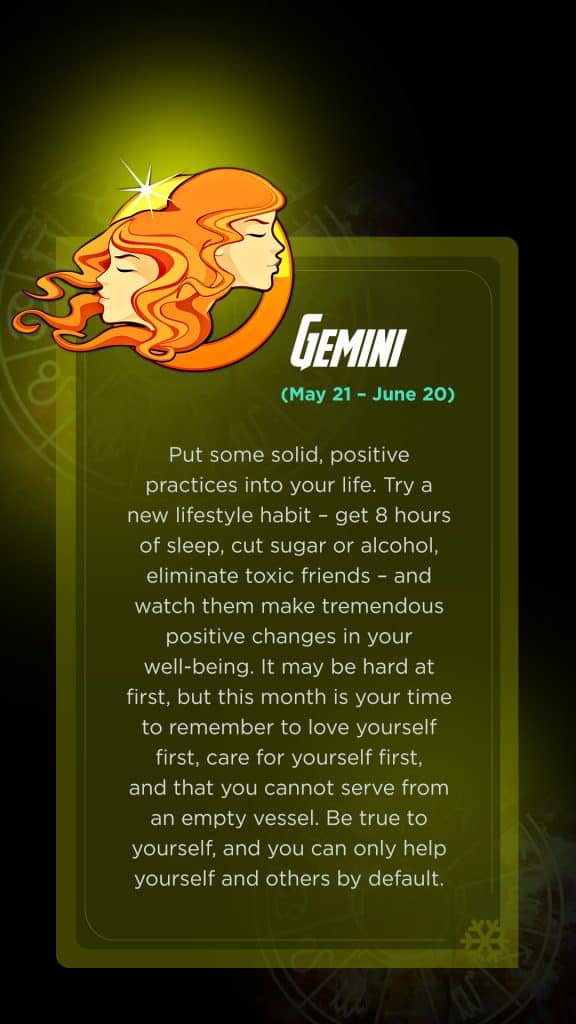 Cancer (June 21 – July 22)
You have been working hard for a long time, maybe your whole life. You will start to see the payoffs of all of that hard work this month. Now is the time to reflect on how far you've come, and if you can work smarter, not harder, as time marches forward. Opportunities abound for you to reach out and grab. All you have to do is set your determination and clear your mind so you can see those doors opening. Walk through them, Cancer. You deserve them.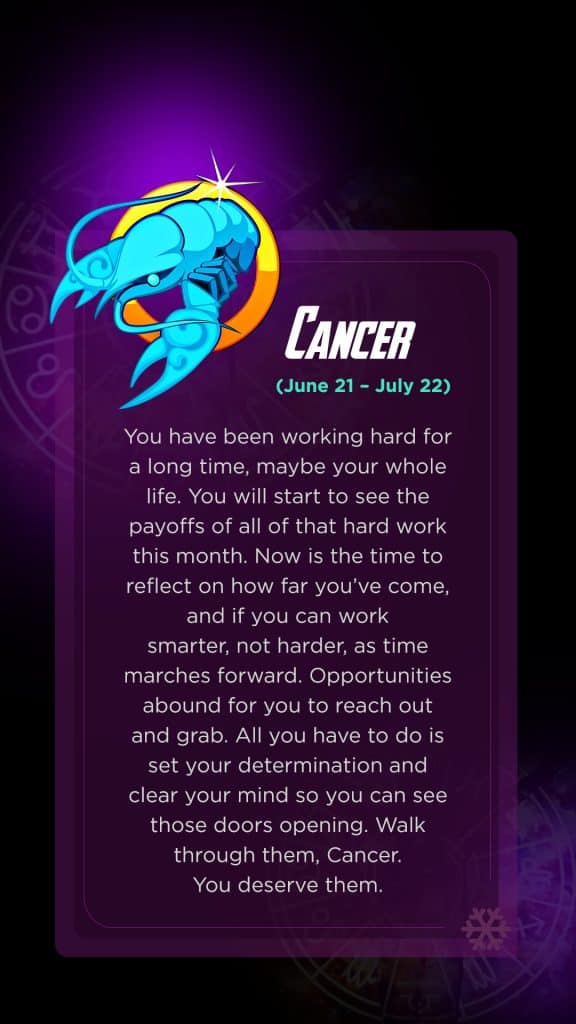 Leo (July 23 – August 22)
Leo is preparing to welcome new friends and acquaintances this month. Remember the adage that you are who you hang out with. You are the collection of the people in the room with you. Look around you and get really selective about who you want in that room. You have been seeking a bright and sunny life and future. This is your month to get it by only surrounding yourself with bright, positive people so that you can be influenced, and you can influence, accordingly.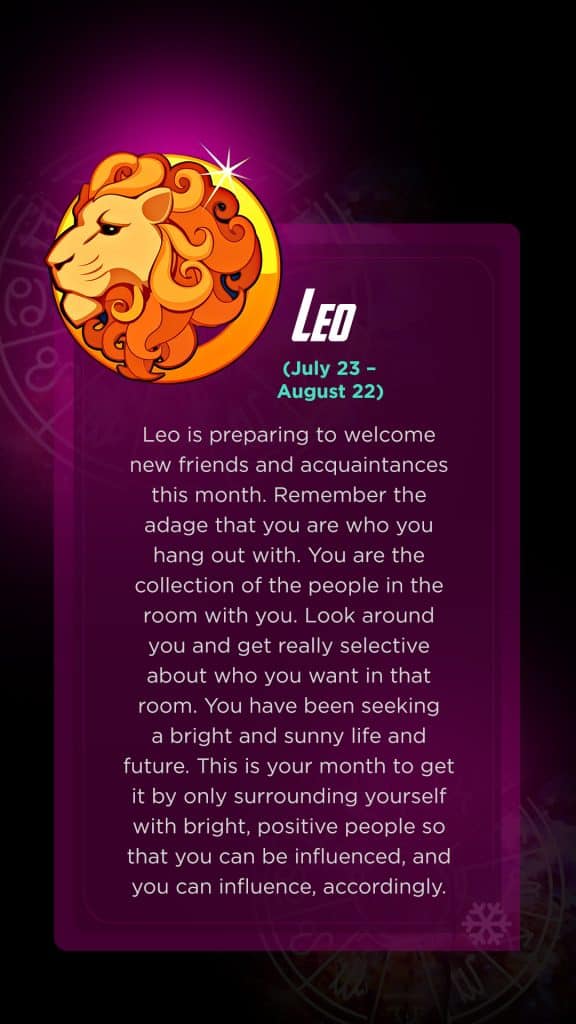 Virgo (August 23 – September 22)
Travel is on the horizon for Virgo. Speak your truth, unblock your throat chakra, and stand firm and confident in who you are, and you will bring a ton of opportunities to travel into your life. It may be close, just a day trip, or it may be a long trip for business. But your starts are pointing you toward journeys and trips that will allow you to expand your mind and open your options.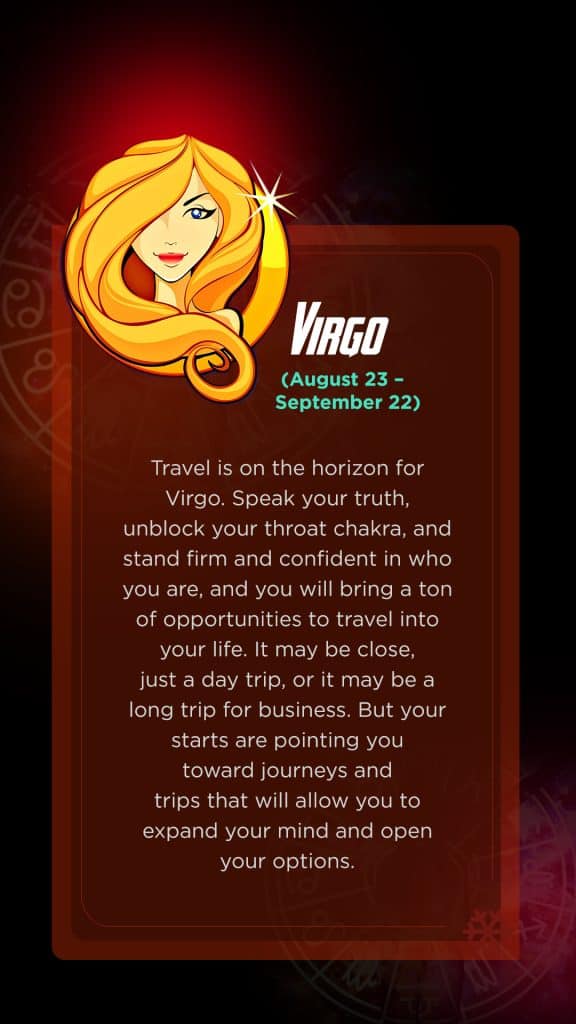 Libra (September 23 – October 22)
Communication is key for Libra this month. Sit with family and close friends and work on relating. Tap into your empathy and compassion. You will learn how to listen and speak in new ways so that those lines of communication open up. Value those loved ones and seek deep appreciation for what you have. Family is an abundance gift we are born with. Forgive and embrace your loved ones.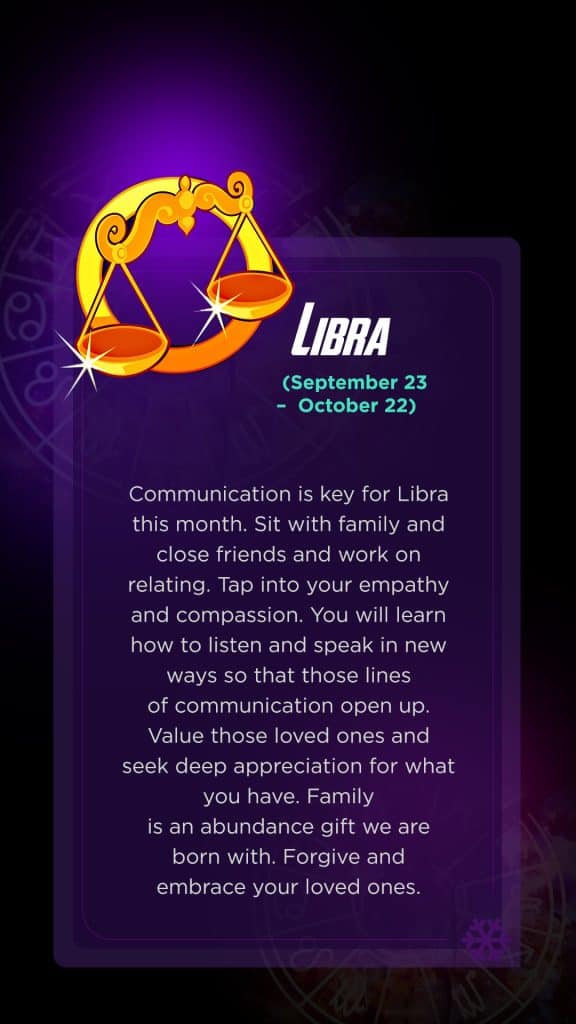 Scorpio (October 23 – November 21)
Seek peace, Scorpio. This is your month to sloooooow down. Sit with yourself, your feelings, honor where you are and breathe. You have experienced tremendous challenges and you have overcome them, whether you know it or not. Try journaling on where you've been and how far you've come. Consider trying to love yourself the way you love your closest loved one. You deserve the relief that accompanies having come so far.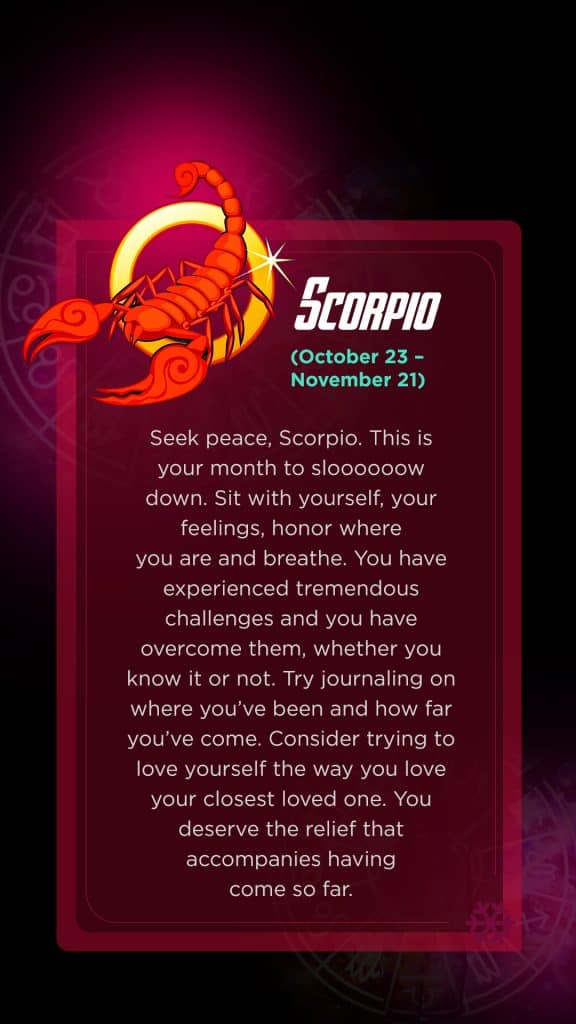 Sagittarius (November 22 – December 21)
Baby steps. You have big dreams, big goals, and big motivation, Scorpio, and that is all good. Be sure in all of that bigness to also have big patience. You will get there through a series of small steps, learning curves, and growth spurts. Accept it all with an air of neutrality and objectivity and you will find the path much less rocky. Live true to yourself and honor your beliefs and the sky is the limit.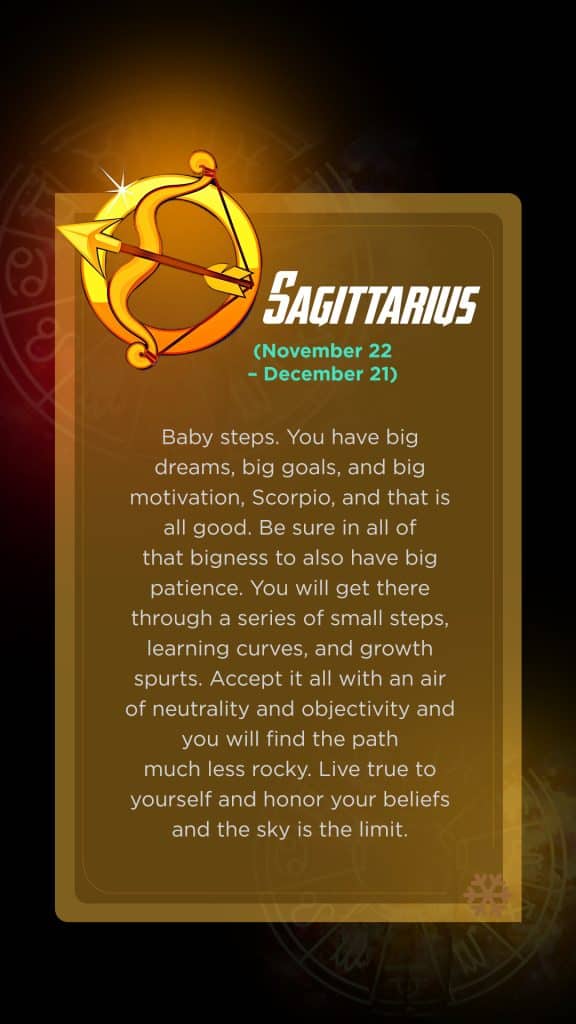 Capricorn (December 22 – January 19)
This is your month to be a helper, Capricorn. You are surrounded by people who love you and who always want to help you. It is time to give back. Your vessel is full and you are rich in abundance in many ways in your life. Share, give, lean in, and open up. By the end of the month you will find new ways to fill your vessel up once again, and a new way of interacting with your loved ones.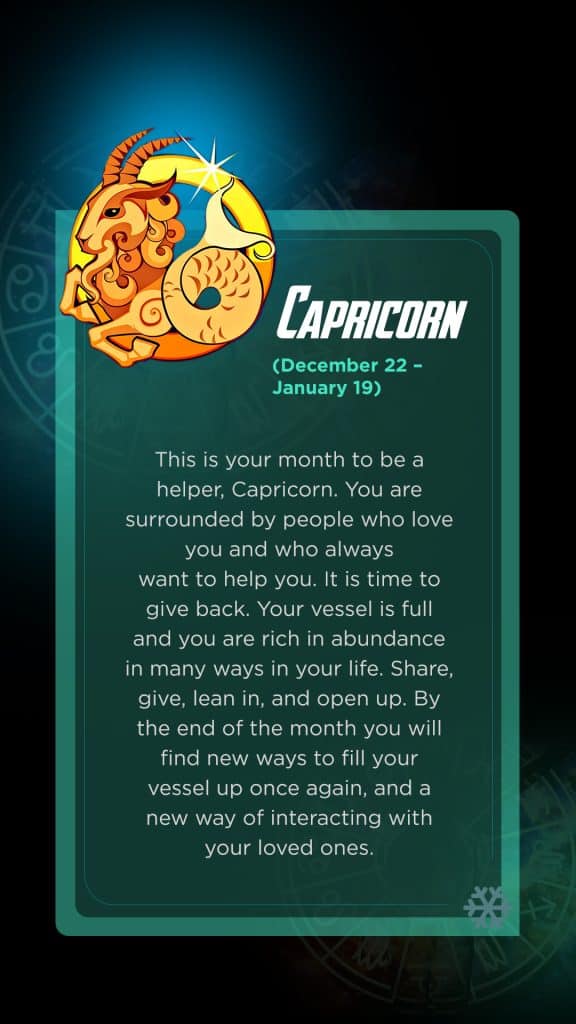 Aquarius (January 20 – February 18)
April is the month of love and health for Aquarius. Embrace your physical wellness and direct all that positive energy toward a close intimate relationship that will flourish with the right attention. You have been sitting alone in the dark for long enough. It is time to shine and reach out your hand. Let someone love you deeply, the way you deserve to be loved.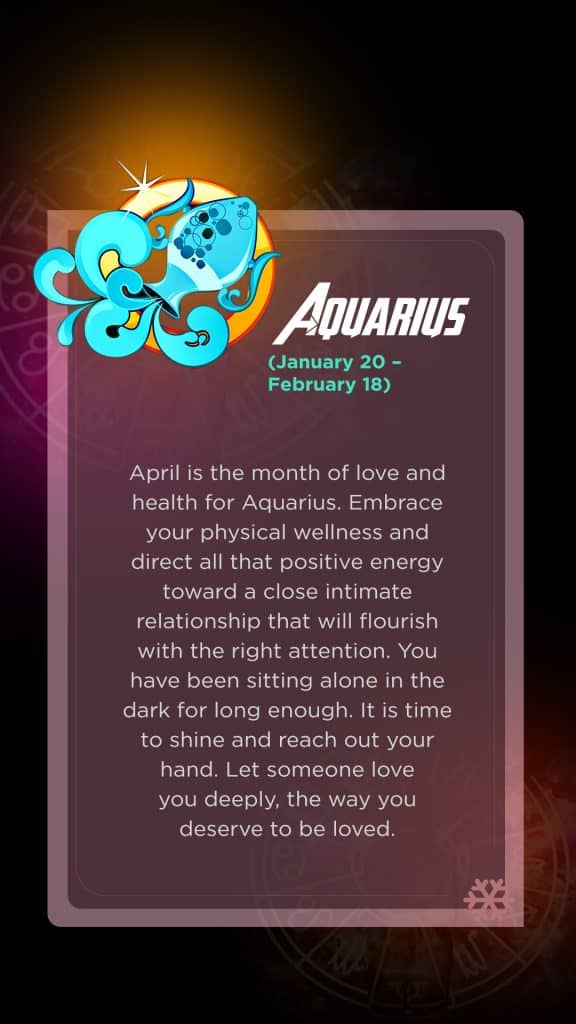 Pisces (February 19 – March 20)
You are busy caring for and loving those close to you this month. This is a good thing, Pisces. Sit in gratitude for how blessed you have been to be surrounded by so much love and the ability to help and care for so many people. Remember to take time for yourself, as well, as no one needs a martyr. Watch for opportunities to refill your vessel and rest while you give so much from your loving heart.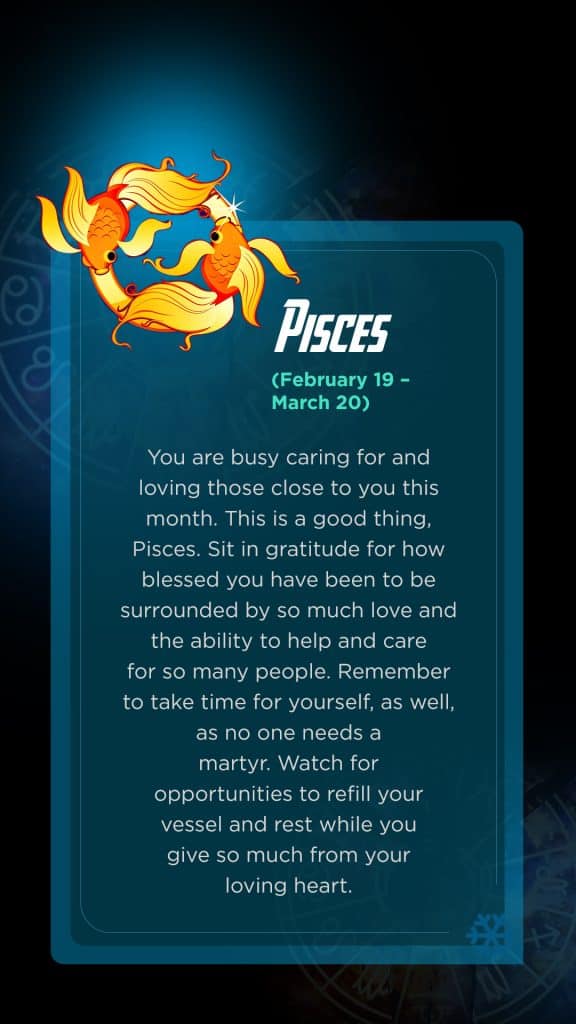 Now, take what you have learned here and run with it in ways that are true to your intuition. Work with what feels right to you and discard the rest. The better you get at paying attention to your own signs, the more you will find yourself living a life that is full of faith and integrity.

Happy manifesting!